IT@Sam - Technology Tutorials
Opening a Shared Voice Mailbox
Go to mail.shsu.edu or from our main site click Campus Tools, then on E-Mail.
To view all the features available for Exchange, you must use Internet Explorer and make sure that you do not select to "Use Outlook Web Access Light". Otherwise, you will not be able to view items such as the Voicemail tab.
To avoid getting logged off too frequently while on a personal computer, select "This is a private computer" at the log in screen
Enter your login credentials (do not enter username@shsu.edu - only your username)
Click on your name located in the top right hand corner.
Click on Open another mailbox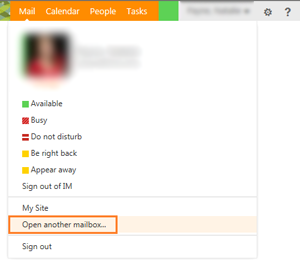 Enter your information in the following format: Ex_vmbx_4XXXX (The numbers are the extension to the voicemail you wish to access)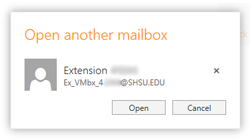 Click "Open" twice and you should now have access to the voicemail inbox.
Press Open. The mailbox should open in a new window.