IT@Sam - Technology Tutorials
Computing Orientation: Welcome from Information Technology
Technology Tutorials | Residence Hall Setup Mac
---
Ethernet Setup for Macintosh
Boot up the computer and install any driver software that may have come with your card. Most Macintosh computers have Ethernet cards and drivers preinstalled. If they are not pre-installed, install the drivers included with the card. Once you've installed the drivers, restart the machine.
Click on the System Preferences icon in the dock, if it is already there.

---
If the icon is not located on the dock, click on the "Apple" icon in the menu at the top of your screen and select System Preferences.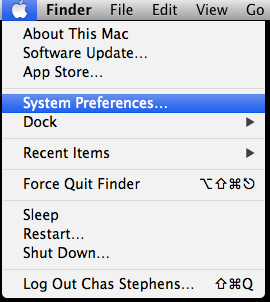 ---
Then, go to the Internet & Network section of the System Preferences window and click on Network.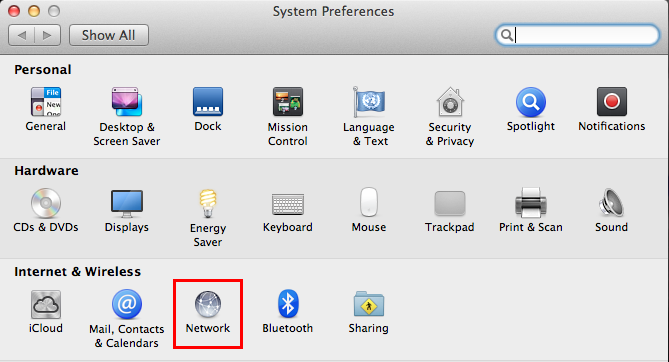 ---
Click on the Built-in Ethernet option. In the Network dialog, click on the TCP/IP button. Set the Configure IPv4 menu to Using DHCP.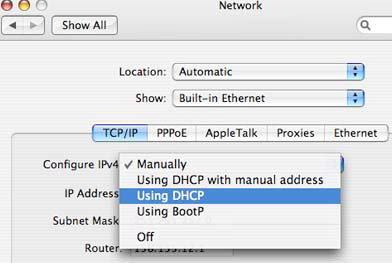 ---
Type "shsu.edu" in the Search Domains box.

Then, close the Network control panel and click Save when prompted by the dialog box. Go back to the Networks control panel and click the TCP/IP button. The IP Address, Subnet mask,Router address and Name server address should all be filled in. This means you're up and running.
---
Troubleshooting
Go to the Apple menu. Select System Preferences and Network. In the Network dialog, make sure that the Show menu displays "Built-in Ethernet"

---
Also, make sure that the Configure box says Using DHCP Server and the Search Domains box says "shsu.edu."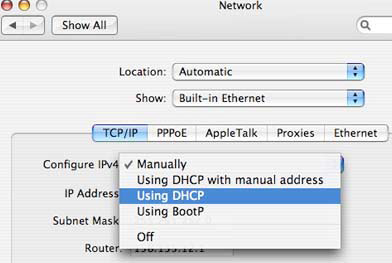 ---

When finished, close the Network Control Panel window. Click Save when prompted.