IT@Sam - Technology Tutorials
Laptop Checkout Orientation
SHSU Technology Tutorials | Laptop Checkout Orientation
---
Remote Desktop Connection
With remote.shsu.edu, you can connect to your SHSU profile from off campus using the Remote Desktop Connection utility available with Windows. You will also be able to access your S: drive, the T: drive and programs such as SecureCRT, Banner INB, and Cognos.

To connect, go to Start -> All Programs -> Accessories -> Remote Desktop Connection. This launches the Remote Desktop Connection software. It will ask for the computer you wish to connect with. You will need to enter remote.shsu.edu as shown below. Click on Connect.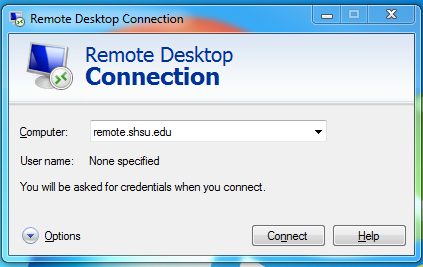 Once you click on Connect a window will be launched on your desktop that will have the SHSU Secure Network Notice. Click on OK and then enter your SHSU username and password as you would on any Windows campus machine.

NOTE: If you would like to print to the local printer attached to your laptop you may do so by clicking on Options > Local Resources > then check the box next to Printers under Local devices and resources.