IT@Sam - Technology Tutorials
Talent Management
SHSU Technology Tutorials | Talent Management | Anatomy of TM
---
Anatomy of Talent Management
Your home page in Talent Management contains a number of quick access points. Depending on your permissions, your home page may look different than another user's, but every user's page will have links to Home, Learning, and Knowledge.

To help you get started, we have provided you with a rundown of these three main sections of your Talent Management home page.
The Navigation Menu
At the top of the page you will see a navigation menu. Everyone on campus will have the first three categories. Hovering over any of these categories will expand the category and show more options.

---
Announcements
The announcements section is an area where our Talent Management managers can post information that may help you in your online trainings.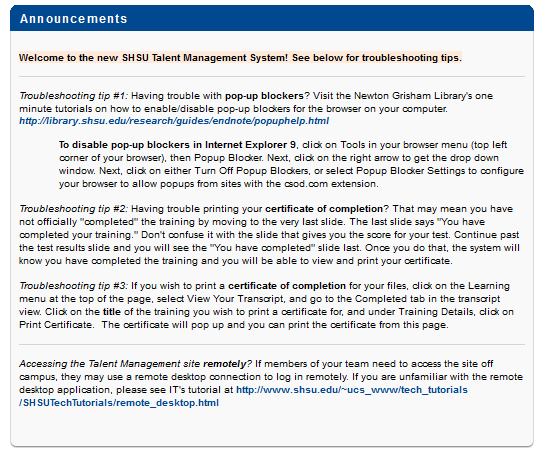 ---
Your Inbox
Your inbox provides a quick link to your transcript which will allow you to view what trainings you have taken, as well as trainings you are currently taking.
Any current trainings will show up here in this section.

---
Browse for Training
This section provides quick links to some of the most requested trainings. Instead of searching all through Talent Management, start here. You may find what you need right in this section.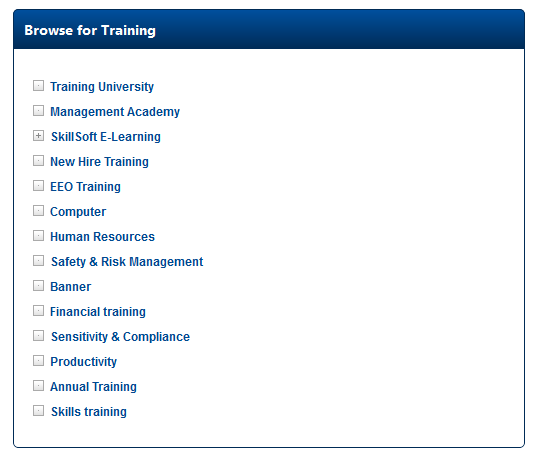 ---
Events Calendar
A calendar for the month will be on your home page as well. Click on a date to see what is going on for that particular date.