IT@Sam - Technology Tutorials
All faculty and staff have an additional Online Archive mailbox that can be used for archiving email online. This mailbox has a quota of 5GB. Any mailbox items (email, tasks, calendar entries) located in the primary mailbox that is older than two (2) years will be automatically moved to the Online Archive mailbox.
Note: The Online Archive is not available through any mobile device, Outlook 2011 or Macs using Outlook or Mac Mail.
To save older e-mails, it is recommended to use the mailbox archive tool.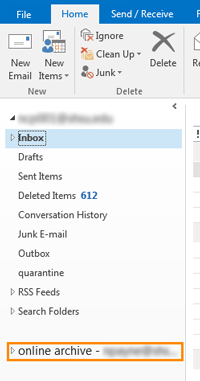 To add an item to the archive folder, select and drag the item to the online archive folder. Items in this folder will not count against the inbox quota.
The online archive can be organized by adding folders like the inbox.
Auto Archive
Outlook can be set up to automatically archive e-mails. Follow these directions to do automatically archive e-mails
Go to the Home tab, select Set Folder Policy from the Assign Policy options.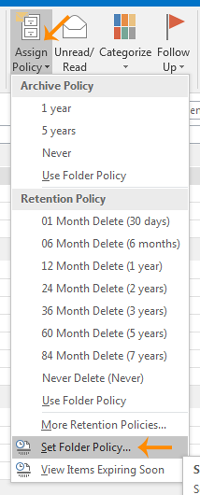 Within the Policy tab, in the Online Archive section, set the timeframe to automatically archive.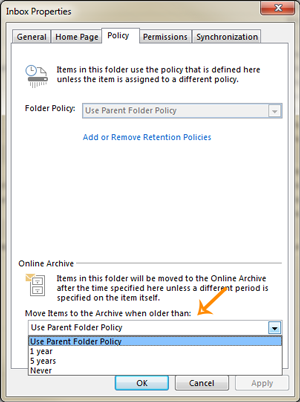 Note: All subfolders in mailbox should be set to Use Parent Folder Policy unless some items need a different retention period.
There is NO automatic policy currently.