Graduate School Exploration Week
Graduate School Exploration Week
Graduate School Exploration Week provides opportunities for students to learn about graduate education at SHSU. Learn about the graduate school application process, how to stand out from other applicants, and meet graduate advisors.
Attendance at each event qualifies students to be entered into drawings to win SHSU graduate scholarships and prizes!
If you are considering graduate school and want to know more about getting started, join us during one of the FREE sessions below.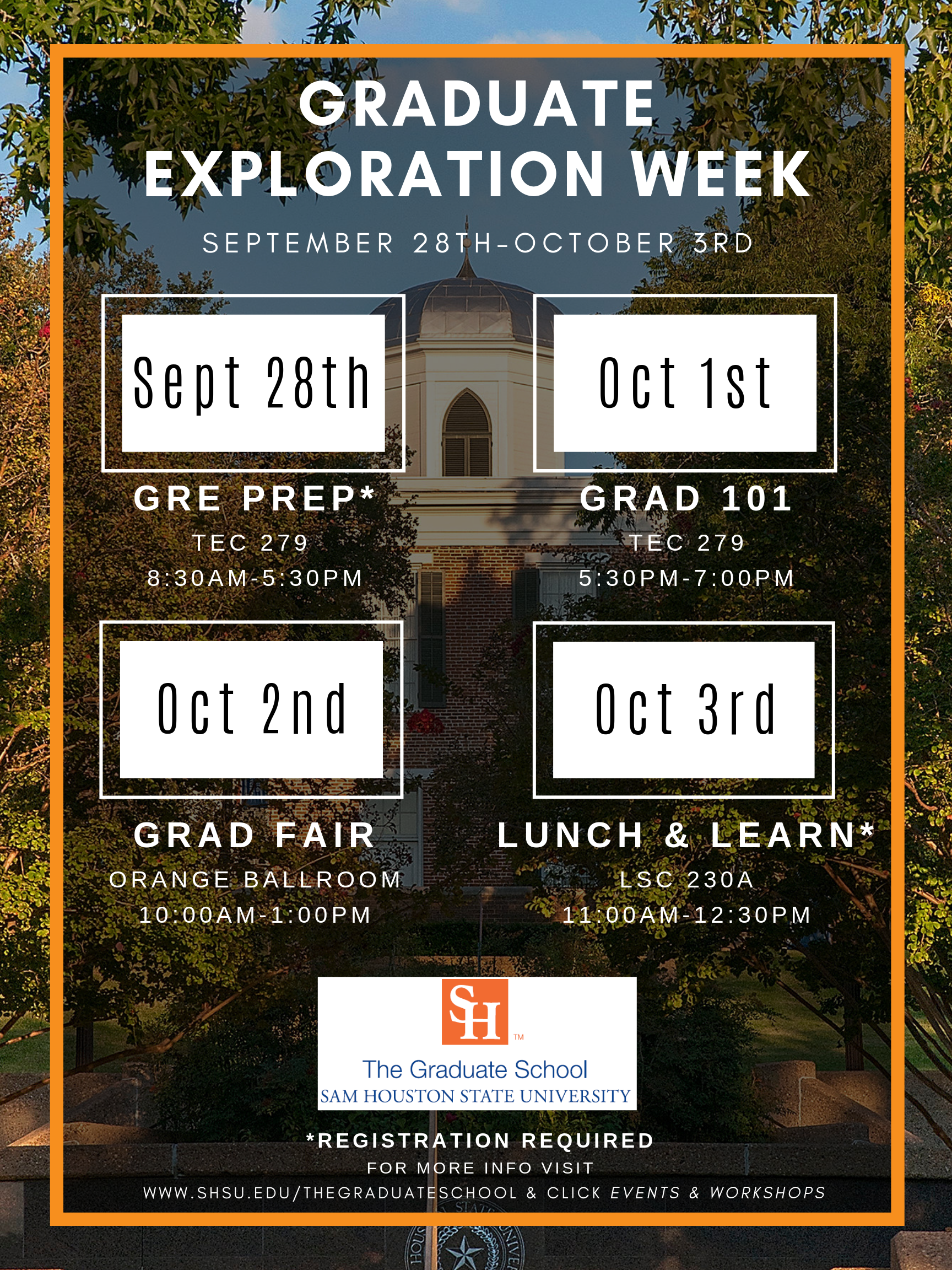 *Registration required. Please see links below.*
________________________________________________________________
Event Descriptions
Grad 101
Grad 101 is offered twice a semester and is designed to give students a general overview of the process of researching and applying to graduate school. Specific topics covered include financial aid, letters of recommendation and academic requirements. No RSVP required.
Graduate Program Fair
Meet advisors, faculty, and staff from various graduate programs offered at SHSU during this come and go event to have all of your questions about graduate school answered. No RSVP required.
Lunch and learn: How to put together a competitive graduate application
Does your program of interest require a portfolio, personal statement, writing sample, etc.? Listen to graduate advisors talk about what they expect from their students when reviewing applications into their programs and tips on what you can do to be a more competitive applicant. Boxed deli lunch is provided! Click here to register. RSVP is required for this event and space is limited.
GRE Prep Workshop
We believe that SHSU students should be able to compete right along with others across the nation and to ensure you the best possible opportunity to perform well on the exams, we offer a FREE GRE Prep workshop twice per semester. The only cost to you is the purchase of any reputable study guide from which you should put in significant study time before attending our prep sessions.Click here to register. RSVP is required for this event and space is limited.
For more information, please contact:
Heather Caudle
936-294-2408
heather.caudle@shsu.edu