Alondra D. Garza
B.S. in Criminal Justice, May 2016
M.A. in Criminal Justice & Criminology, expected May 2018
Freshmen Leader: 2013 - 2014 Mentor: 2014-2016
Accomplishments: freshmen Leadership Program Mentor 2014-2016, Delta Xi Nu Multicultural Sorority Inc., Ronald E. McNair Scholar, Elliot T. Bowers Honors College Ambassador 2014-2016, Orange Key University Ambassador 2015-2017, Who's Who Among Students in American Universities and Colleges (2015, 2016), Graduate Research Assistant, Crime Victims' Institute.
"My involvement in the freshmen Leadership Program during my first year at Sam Houston State University transformed my undergraduate experience. I discovered so much about myself, my potential as a leader on campus, and I gained so much confidence! The program mentors challenged me to discover myself, learn about diversity and working with different leaders, and to develop my own leadership style. Additionally, the freshmen Leadership Program exposed me to all the opportunities across campus and allowed me to gain a network of friends from my cohort and professionals all across campus. I was able to serve as a Program Mentor for two years and enjoyed giving what the program gave to me to two freshmen cohorts. FLP has been a rewarding and life-changing experience."
---
Alexus Hardy
B.A. in Marketing, expected May 2019
Freshmen Leader: 2015 - 2016
Accomplishments: Orange Key Ambassador, Elliott T. Bowers Honors College Scholar, Alpha Kappa Psi Business Fraternity Secretary, Student Government Association Senator, Alpha Lambda Delta Honor Society Member, Student Event Planners Association Outreach Coordinator, Office of Admissions Student Assistant, President's List, Dean's List, Outstanding freshmen Sammy Nominee, COBA Scholarship Recipient.
"Being a part of FLP paved the way for my success at this University. It introduced me to numerous opportunities, provided me with outstanding mentors, and allowed me to hone in on my unique abilities that influence my leadership today. I am forever thankful for the connections I made as a freshmen leader and the ones I continue to make because of my involvement with the program."
---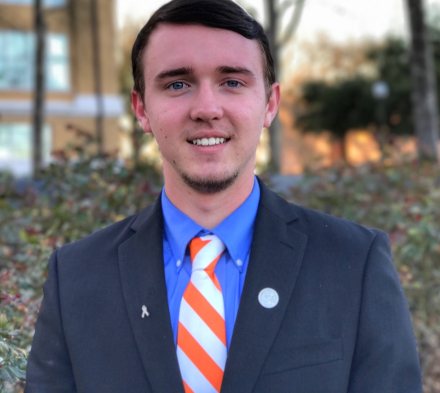 David G. Eller
B.S. in Interdisciplinary Agriculture
Freshmen Leader: 2015-2016 Mentor: 2016-2018
Accomplishments: Student Body Vice President, Student Government Association, Texas State University System Student Advisory Board Member, Orange Key University Ambassador, freshmen Leadership Program, Honors College, Student Service Fee Committee and Campus Life Development Fund Committee, LSC Student Advisory Board Member, Student Disciplinary Hearing Committee, Outstanding First-Year Student Leader Sammy Award Winner, Outstanding Sophomore Student Leader Sammy Award Winner.

"Everything that you see listed above would have been impossible if it was not for the freshmen Leadership Program. I was truly blessed to be a part of such an amazing cohort and office on campus. I hope to continue to using what I learned in the program to serve the students of SHSU in any capacity that I can. Thanks and Eat 'Em Up Kats!"
---
Meaghan E. Byington
B.A. in English, expected May 2019
Freshmen Leader: 2015-2016
Accomplishments: Freshmen Leadership Program Member, Captain of SHSU Women's Club Soccer Team, Vice President of SHSU Women's Club Soccer Team, Elliot T. Bowers Honors College Scholar, Student Assistant of Parent Relations in The Dean of Students' Office, National Society of Collegiate Scholars Member, The Society for Collegiate Leadership and Achievement Honor Society Member.
"The Freshmen Leadership Program helped me establish myself as a person. Most students honestly have no clue as to who they are or know what they want to become when entering the college atmosphere. We did so many activities in FLP that opened my eyes and made me realize what my goals are and how to achieve them. The friendships I made that year in Freshmen Leadership are some of the strongest, and dearest friendships I have."