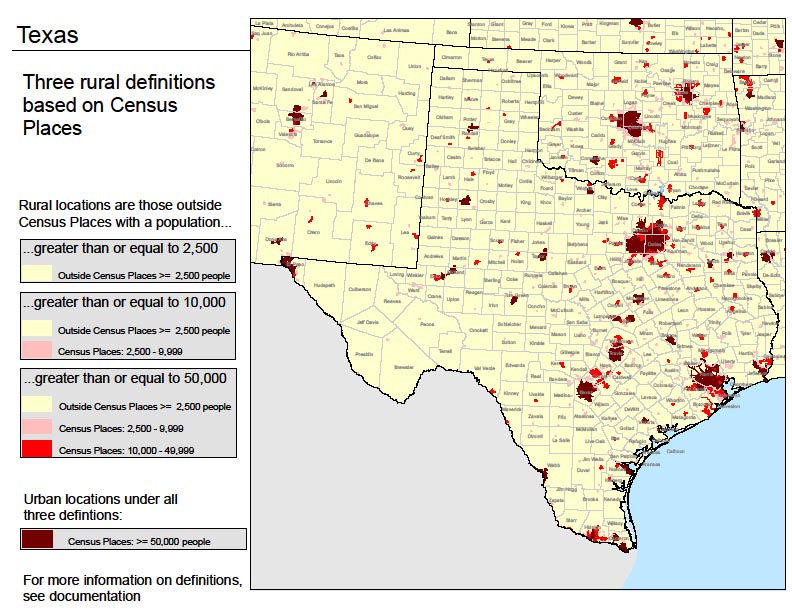 The USDA Economic Research Service provides a set of maps showing the nine rural definitions. These maps allow the user to compare the geographic coverage provided by different definitions for each State. The PDF file also contains the same indicators available in the Excel tables for the selected State as reference. Tip: use the magnification feature in Adobe Reader to enlarge the map and see more detail.
---
Atlas of Rural and Small Town America
The Atlas of Rural and Small-town America, developed by USDA's Economic Research Service, provides county-level mapping of over 60 statistical indicators depicting conditions and trends across different types of nonmetro regions. View the diversity of challenges and opportunities across America's counties and within different types of rural regions and communities.
---

Rural Texas Tourism Center
The Rural Texas Tourism Center (RTTC). is a tourism program created to improve the quality of life in rural Texas communities and support preservation and promotion of Texas heritage. By marketing all of rural Texas tourism from one center, strategically placed in Rural Central Texas, "one stop" marketing and information can be offered to Texas travelers and other tourism partners. The RTTC promotes cultural heritage tourism which is one of the fastest growing markets in the travel industry today. Our offices in Giddings are located in a restored Union Station freight & passenger depot. The depot, restored specifically for the Rural Texas Tourism Center, also houses the Transportation Museum providing lots of room to showcase rural Texas and give a glimpse of railroad transportation history. The Center offers a cost effective way for rural communities, businesses, and events to market themselves to thousands of potential tourists that are interested in visiting rural communities. Partner communities have access to low-cost website hosting and page-building assistance, online marketing, events posted on a central calendar, and the ability to place materials in our physical center in Giddings. Businesses can buy advertising spots or annual sponsorships to promote their products online, in newsletters, and at events. RTTC one-pager.
---
Texas Association of Regional Councils
The Texas Association of Regional Councils is the state organization of Texas' 24 regional councils of governments (COGs). With 2000 plus local government members, the regional councils of governments join local governments, as well as state, federal, and private partners, to provide cost-effective, better planned, and more accountable public services in each region of Texas.
To find your regional council of government click here.
---
Southern Rural Development Center
In many rural counties, gaining access to relevant demographic, education, social, and economic data is not easy to come by, or, at a minimum, difficult to locate in one centralized site. As a way of making key data readily available to local leaders, agencies, and organizations, the SRDC has created this Data Center to provide information on more than three dozen variables for every county in the region. Moreover, state level data - overall and by metro and nonmetro areas of the state - are provided as well. In many cases, data are presented over 2-3 points in time (for example, for the years 1990, 2000, and 2008). Click here for the Community Data Center.
---
U.S. Census Bureau: State & County Quick Facts
QuickFacts includes data for all states and counties, and for cities and towns with more than 25,000 people.
---
USDA Economic Research Service: State Fact Sheets
State fact sheets provide information on population, income, education, employment, federal funds, organic agriculture, farm characteristics, farm financial indicators, top commodities, and exports, for each State in the United States. Links to county-level data are included when available.
---
Statehealthfacts.org is a project of the Henry J. Kaiser Family Foundation, a non-profit, private operating foundation focusing on the major health care issues facing the U.S.. The website is designed to provide free, up-to-date, and easy-to-use health data on all 50 states and on more than 700 health topics. The Foundation serves as a non-partisan source of facts, information, and analysis for policymakers, the media, the health care community, and the public.
---
County and State Economic Profiles from Headwaters Economics
Headwaters Economics is an independent, nonprofit research group. Economic Profile System-Human Dimensions Toolkit allows users easily to produce free, detailed socioeconomic profiles at a variety of geographic scales.
---
TAC's County Information Project (CIP) is a central clearinghouse for county-related information. Partnerships with the U.S. Bureau of the Census, the Texas State Data Center and other agencies provide much of the raw data, which CIP then turns into comprehensible information.
---
The Texas State Data Center and Office of the State Demographer, in cooperation with a network of affiliates, functions as a focal point for the distribution of Census information for Texas. The Center also disseminates population estimates and projections for Texas, as well as other information from the federal government, state government, and other sources.
---
The Census of Agriculture, taken every five years, is a complete count of U.S. farms and ranches and the people who operate them. The Census looks at land use and ownership, operator characteristics, production practices, income and expenditures, and many other areas.
---
Texas Department of Rural Affairs
TDRA makes the resources of state government more accessible to rural communities and is a provider of rural-focused state and federal resources. The agency ensures a continuing focus on rural issues, recommends solutions to problems affecting rural Texas, and works to strengthen rural communities so that they remain contributors to the prosperity of the state.
---
The County Health Rankings show us that where we live matters to our health. The health of a community depends on many different factors – ranging from individual health behaviors, education and jobs, to quality of health care, to the environment. This first-of-its-kind collection of 50 reports – one per state – helps community leaders see that where we live, learn, work, and play influences how healthy we are and how long we live. The Robert Wood Johnson Foundation is collaborating with the University of Wisconsin Population Health Institute to develop these Rankings for each state's counties.