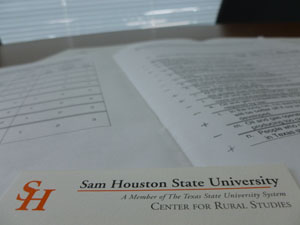 Research Services
As an academic institution, faculty and staff affiliated with the Center for Rural Studies have extensive research experience. Our goal is to provide quality research that answers questions and makes recommendations that will assist rural communities, organizations, and local governments in making informed decisions.
We will work with you in the development of a proper research plan that fits your needs. We will identify and collaborate with the appropriate specialists at the University and are available to collect and analyze data and interpret the results for you.
---
The Center offers professional assistance with:
Methods

Questionnaire Development

Sampling

Telephone Surveys

Mail Surveys

Focus Groups

Field Work

Personal Interviews

Data Analysis

Data Entry

Coding

Interpretation of Results

Written Report

Group Presentation of Results
---
Rural Community Realities and Perceptions Research Service
"If men define situations as real, they are real in their consequences." – D.S. Thomas (Thomas Theorem)
While understanding the scope and impact of social and economic issues on rural communities is necessary for good decision making by community leaders, understanding the perceptions that the community's residents have about these issues is equally important.
The Center for Rural Studies at Sam Houston State University provides a research service that not only assesses the reality of issues being witnessed in rural communities, but also assesses the perceptions that the rural community residents have of these issues and others.
This comprehensive approach to understanding rural issues impacting and the perception of those impacts provides community leaders with substantial information to make good decisions about the development of the community. Additionally, since the community has been brought into the decision making process through assessment of their perceptions, the final decisions that are made are better respected and supported.
Center for Rural Studies staff will work with the community to customize the assessment by identifying relevant survey content and appropriate methods. The assessment can consist of a broad range of issues or can be concentrated on a single or a few issues. Methods available are: collection and analysis of secondary data (i.e. Census and documents), as well as primary data collection and analysis through paper surveys, telephone surveys, focus groups, personal interviews, or a combination of methods. After data collection, Center staff work to analyze and interpret the data and provide a report to the community, and if requested, a presentation of results.
The fee for the service varies according to the breadth of content and methods as well as sample size. To begin, a consultation by a Center staff member is scheduled and an estimate is then provided.
---
Comments
The Center for Rural Studies values your feedback. Please leave any comments in the box below and click the submit button. If you would like a response to your comment, please be sure to leave your contact information and the agency with which you are affiliated (if applicable).
Research Ideas
The Center for Rural Studies would like to know what topic(s) you would be interested in seeing our agency research. Please leave your research suggestions in the box below and click the submit button. Contact information is optional. Thank you for your interest and suggestions.