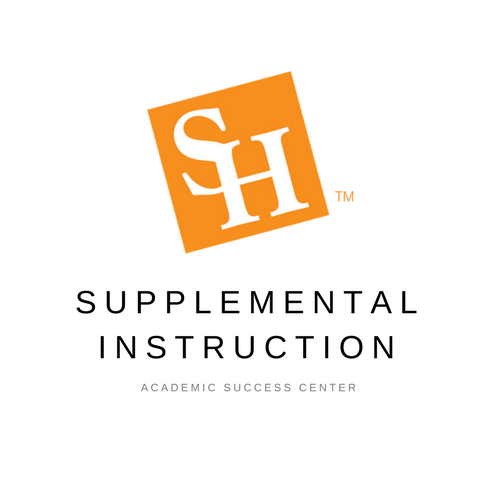 Mission Statement
The mission of Sam Houston State University Supplemental Instruction (SI) Program is to improve student retention and academic achievement by organizing dynamic and interactive peer-facilitated study sessions paired with traditionally difficult courses.
What is Supplemental Instruction?
Supplemental Instruction is an opportunity for students to take an active role in their learning experience by collaborating with peers and strengthening their study skills in historically difficult SHSU courses.
All SI sessions are free!
SI sessions are peer-facilitated study sessions that consist of content-based activities, discussions, and reviews
Regular participation has shown up to a full letter grade increase in course grade compared to students who do not attend sessions
Many students report that the study skills they gained in SI sessions helped them in subsequent coursework as well.
Is SI offered online?
SI sessions are offered in two formats: face-to-face for on-campus courses and Blackboard Collaborate for distance courses. Students enrolled in fully-online courses are encouraged to attend face-to-face sessions when possible, but the dynamic and engaging Collaborate environment provides the same high-quality SI session experience for students who are unable to visit the Huntsville campus for sessions. Your SI Leader will let you know if your class has online sessions.
What are SI Leaders?
SI Leaders are students who have successfully completed the SI-supported course and have received in-depth training to facilitate study sessions based on a Supplemental Instruction model.
SI Leaders are not tutors and will not cover homework assignments in sessions
SI Leaders do not re-lecture information from class
SI Leaders help students put course material into perspective in order to learn materials more efficiently