Blackboard for Bearkat Bridge
How to Access your Bearkat Bridge Course
Accessing your online Bearkat Bridge course is as easy as 1, 2, 3.
Step 1
Click on the Campus Tools link at the top of the screen and select Blackboard


Step 2
Login using your SHSU credentials. This username and password is the same that you use to access your SHSU email or logon to SHSU computers on campus.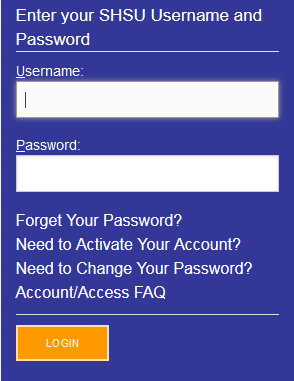 Step 3
Now that you are in Blackboard, look under the My Organizations section on the right side of your screen and select Bearkat Bridge Fall 2017.