A Winning Investment For Success Now And The Future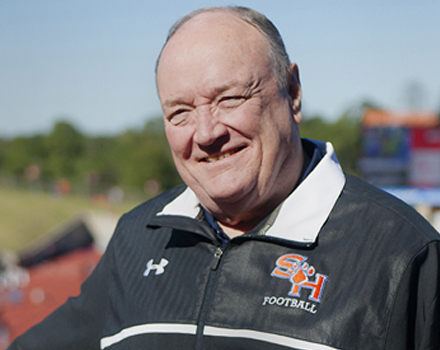 When Elliott T. Bowers Stadium opened in 1986, fans were amazed at the difference between Pritchett Field, where the Bearkats had played since 1912, and the new facility, which offered a whole new experience.
"Bowers Stadium was very much a source of pride when we played our first game there," said Alan Tinsley, BBA '71, chair of the Bearkat athletics capital campaign initiative of "Honoring Traditions, Creating Futures."
"However, today's program barely resembles the one 30 years ago," Tinsley said. "The football staff has grown substantially and advancements in technology have changed the way players and coaches interact and prepare for games."
Tinsley, a Madisonville attorney and member of the Texas State University System Board of Regents, has long been a supporter of many programs at Sam Houston State and actively participates in fundraising for Bearkat athletics.
"We've done a great job keeping up with changes affecting our staffing and our student-athletes," he said. "But, the time has now come to focus on our outdated facilities. We have become more successful, and we must demonstrate an institutional commitment to building supporting, and sustaining our winning programs."
"We've invested substantially in our staff and student-athletes since 2000, and you can see the results," said Bobby Williams, SHSU athletic director. "Across the programs, we've been awarded Commissioner Cups and won championships and conference titles. We've had 25 'Coaches of the Year;' 23 NCAA post-season appearances; and three national title appearances, including a national championship with our bowling team. Since 2007, 25 of our athletes have been named 'Student Athlete of the Year' in their respective sports."
The SHSU athletic program has been successful in these and many other areas in spite of challenges posed by outdated facilities.
"The energy and excitement that has been generated by our sports teams is almost palpable," said Tinsley.
"Not only do you feel it when you step on campus, but just talk to alumni across the state," he said. "There is so much pride and support for our teams; it's almost the topic of every conversation."
Both Tinsley and Williams acknowledge that successful programs are not built overnight—they are developed over time with sacrifices, commitment and tenacity. To continue moving forward, programs must be evaluated and bold steps taken toward accomplishing ongoing and ever-changing goals.
"Nationwide, universities are investing billions of dollars for updating their athletic facilities, particularly their football stadiums," Tinsley said. "Like it or not, particularly in a state like Texas, without football revenues, operating a self-sustaining athletic department is difficult at best. It's not unusual for a successful football program to strengthen an entire athletic department and a struggling football program to cause a university to miss out on opportunities that could provide a healthy income. To compete and ultimately to win, Sam Houston State University must invest as well."
For those reasons, the university has identified the renovation and updating of the West Side Complex of Bowers Stadium as a campaign priority to attract fans to share special game-day experiences for generations to come.
"The improvements to the West Side Complex will help to generate revenue so that all sports—the ones we have now and those that will be added in the future—will benefit," Williams said.
The cost of the project is expected to be $29 million, funded primarily by private gifts.
Plans include expanding the West Side Complex to 40,000 square feet. The current four-story structure will be taken down and replaced by a new five-level facility.
The first level is designed to be fan-friendly and engaging. In includes a ticket office, a lobby and gallery featuring the history of the Bearkats' success, a gift shop and office space for external operations and the Bearkat Sports Network.
On the second level, the concourse will be expanded to include upgraded concessions and restrooms, as well as a balcony with viewing decks. Club seating with premium amenities will be located on the third level.
The President's Box and eight premium game suites will be on the fourth level, while the fifth level will be designated for media services, television and radio broadcasting booths, game-day video operations, and the public address and coaches' booths.
Plans also call for renovated concessions and restrooms and preparation for future game-day hospitality accommodations on the east side of the stadium.
"With these improvements, we will be able to stay on track with enhancing the fan experience and growing revenues so that we can keep up with the increased costs of operations and equipment," said Tinsley. "It will also help with recruiting and retention—that applies to our coaches, as well as our student-athletes.
"When our donors, supporters and friends step up to help us meet our challenges, it's amazing what we can accomplish," he said.