Meet Campaign Co-Chairs Charlie Amato And Gary Dudley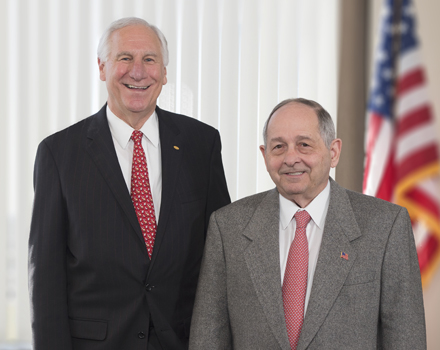 As founders and owners of San Antonio-based SWBC—a multi-faceted, privately-held financial services firm with more than 2,600 employees—Amato and Dudley know what it takes to run a successful operation. The company's success has allowed the businessmen to expand and diversify their enterprise—including five car dealerships, a real estate development company, and part ownership of the San Antonio Spurs.
"Operating a university is similar to running our business," Amato said. "You can never take a break or even slow down. With all the new projects and programs that are added to a university every year, it requires additional capital and additional funds. That's not any different than it is here with our business at SWBC."
Both Amato and Dudley came from humble beginnings, growing up in small refinery towns in Texas. Attending Sam Houston State opened doors to them that might not have been opened otherwise.
"I think that any Sam Houston alum can reflect back and think of how different their life would be today if they had not accomplished that goal of graduating," Amato said. "I can assure you that the quality of our lives would be much different from the way they are now."
While gifts from the comprehensive capital campaign will support university programs and new construction, funding also will be used to attract and retain talented faculty.
"It's very important the university continues to recruit high-quality faculty for teaching, research and service," Dudley said. "We know from our time as students, and what we hear even today, that Sam Houston State University professors positively influence a student's academic success. We don't hear that about other universities as much.
"Charlie and I have been fortunate enough to come across some of our former professors through the years, and we often tell them how much we appreciate the impact they had on our professional growth," he said. "We know how valuable their interaction and encouragement were for our success, and we want to be a part of continuing that tradition with current and future students, as well."
While both co-chairs said they understood how graduates across the generations get busy with life and put their college days behind them, they both encourage former students to attend events hosted by the university—either on the main campus or in their own communities—to re-live a bit of Bearkat Pride.
"From time to time, we have employees in our company tell us their son or daughter has been admitted to Sam Houston State," Dudley said. "Then they tell us how proud they are of their student and how thankful they are that their child was accepted to such a great school."
"I was guilty of not going back to campus for about 20 years after I graduated," Amato said. "Former SHSU President Jim Gaertner asked Gary and me to serve on the Advisory Board of the SHSU College of Business Administration, which required us to go back to the university from time to time.
"That was such a blessing," he said. "There is no way to describe the feeling you get from being involved and seeing first-hand all the wonderful things that are happening with our university. I hope that everyone who has had any relationship with Sam Houston State will take advantage of re-connecting and be a part of its future growth."