Establishing A University With Gifts And A Vision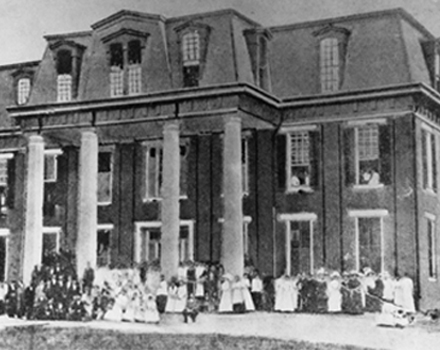 Prominently located on a hill in Huntsville was the vacant Austin College building. The structure had been built by the Texas Synod of the Presbyterian Church and dedicated in 1852. However, following two yellow fever epidemics in Huntsville and the Civil War, the college was moved to Sherman, Texas. Several other groups had attempted to established an educational presence in the building, but were not successful.
"Members of the Huntsville community were not discouraged, however," Woodward said. "They had a vision the facility could be used for education, while providing an economic and cultural benefit to the area."
Several Huntsville businessmen purchased the Austin College building and surrounding property, and a delegation of citizens traveled to Austin to lobby for legislation to establish the Sam Houston Normal Institute in the town.
The legislature passed the act on April 21, 1879, with the promise from the citizens of Huntsville that the facility and property would be turned over to establish "the Normal."
Along with tremendous support from the Peabody Education Fund, approximately 40 Huntsville citizens pledged various amounts of money, from $1 to $25, to help get the school started. In addition, each senate district paid room, board and tuition for at least two students from their area who agreed to come to college for two years, then return to their communities to fulfill a teaching obligation.
As those first graduates returned to their communities to teach, and the value of their formal education was recognized, Sam Houston Normal gained supporters and the school was able to move forward. Since then, graduates from seven colleges have not only helped improve the quality of life in the state, but also have made differences impacting the world.