Paying Attention to the Needs of Texas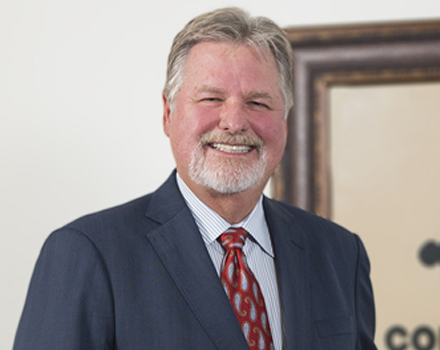 For the past 14 years through the consulting firm he owns in Austin, Don Gilbert, BBA '74, serves as a consultant/lobbyist for health care clients in most segments of the health-delivery system in Texas. Among his clients are Texas Medical Foundation, Aetna, Accenture, Baylor/Scott and White, HCA, Christus Health, Texas Health Resources, Tenet, Memorial Hermann, Cook Children's, and many other familiar medical organizations.
He was commissioner of the Texas Health & Human Services Commission from 1998 through 2002, and commissioner of the Texas Department of Mental Health and Mental Retardation from 1995-1998.
He has spent his entire career in the health care industry and has been honored and recognized for his contributions to the profession by such groups as the Texas Pediatric Society, Texas Academy of Family Physicians, Texas Association of Community Health Centers, and Dallas Alliance for the Mentally Ill.
In 1999, he was selected as a recipient of Sam Houston State University's Distinguished Alumnus Award, the highest honor the university can bestow upon its alumni.
Q: What notable changes have you observed in health care over the past 40 years?
A: I began my career in the mental health field, and I have seen much progress, particularly in that area. Certainly, the greatest advances in medicine and health care in general are those that have been brought about with improvements in technology. The development of evidence-based treatment and outcome-oriented protocols has also contributed to greater accountability and ultimately more efficiency in the way health care is delivered.
Q: What is the role of primary care today?
A: I've noticed a growing appreciation for the fact that primary care is the gatekeeper for all health care. It is so important to have primary care providers who are generalists and can assess the potential for the need for specialty care. In my view, primary care medicine is the first-line protector of health care. There are far too few primary care physicians in Texas.
Q: With so many specialties in medicine developing every day, why is primary care important in the future?
A: As our population increases and ages, the need for physicians across the country, but particularly in Texas, will increase, and this need is especially true for primary care providers. We already have a shortage of 12,000 to 13,000 physicians today in a state that's growing faster than almost any other. We should be challenging ourselves to meet those needs and working on ways to provide enough primary care providers to address an escalating problem.
Q: Sam Houston State University has long enjoyed its reputation as an educator of teachers and criminal justice professionals. The university is relatively new to preparing students for careers in the health sciences. Why is it so important to focus attention on this area now?
A: Clearly, as we look at the needs of Texas going into the future, if we are not paying attention to health care issues, we are overlooking a huge sector of the Texas economy and missing service opportunities in both the public and private sector. I think back to my time as an SHSU student; it did not occur to me that a business major could pursue a career in the health care field. The world was a different place then. As we look at it today and see how many parts of the Texas economy and society are touched by health care, we will lose ground to other universities if we don't commit to addressing health-related issues. I think it's a great tribute to the foresight and wisdom of the SHSU administration that they've chosen to embrace this challenge in establishing a role for the university in primary health care.