A Couple's Commitment To Progress In A Traditional Field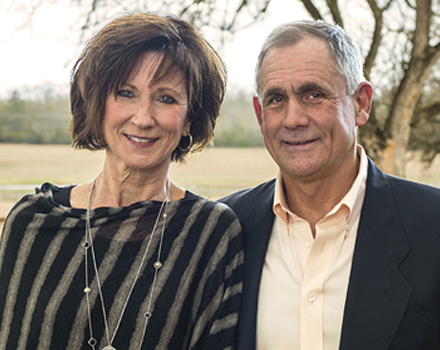 While shopping for clothes or choosing materials for building a home, Americans tend not to spend too much time thinking about the role of agriculture in their decisions
"Agriculture is taken for granted by so many," said rancher Eddie Blazek, who along with his wife Cindy are serving as co-chairs of the agricultural sciences and engineering technology initiative of "Honoring Traditions. Creating Futures."
"Most people do not realize that farm and ranch families comprise just 2 percent of the U.S. population; yet every single person is impacted by the agricultural process, either through food, clothing, shelter, medicine, or employment," he said.
Eddie is an agribusiness alumnus who went into the lumber industry immediately following graduation from SHSU, and Cindy is a fashion merchandising graduate. Today they own Mound Creek Ranch near Leona.
They also have a residence in Italy, the country that Cindy developed a passion for after a visit as an SHSU student.
"My tailoring professor, Mrs. Hill, encouraged me to go on a three-week tour of Europe with other fashion merchandising students and professors," she said. "It was a wonderful visit and I fell in love with Italy. When the tour ended, I promised myself I would go back there. I'm very grateful that Mrs. Hill encouraged me to go on that trip, and I'm thankful that she inspired my love for Italy."
Although the Blazeks have remained connected to SHSU since their graduation and knew about the many exciting accomplishments of the agriculture program, from research to the rodeo team, they were busy building their lives, which did not leave a lot of time to spend on campus.
However, they recently returned for a visit and saw how much the campus had grown since their time as students. They noticed many new buildings and improvements across the university; but they were somewhat dismayed by something else they saw.
"We were touring campus and when we came upon the ag facilities, it was like déjà vu," Eddie said. "I saw those facilities for the first time in 1970. Here it is more than 45 years later, and nothing has changed. The ag program is using the same old structures that were being used when I was here. I know how much has changed in the field of agriculture since then, and I am amazed that so much has been accomplished at Sam Houston State with these same facilities."
The tour ended at Gibbs Ranch, where the new meat and food science lab; an animal science and equine arena; and a plant science field lab will be located, not far from Interstate 45. (See "Keeping Pace With Advances In Agriculture.")
"Gibbs Ranch is a beautiful place and it's fitting that it will be a centralized location for agricultural sciences," Eddie said. "We are extremely fortunate to have such an ideal piece of land.
"For years, the dedicated ag faculty and staff have put their heart and soul into making sure our students are getting the best education they can," he said. "Just think of all they can accomplish when they get modern facilities and the technology to go with them."