Honoring Traditions, Creating Futures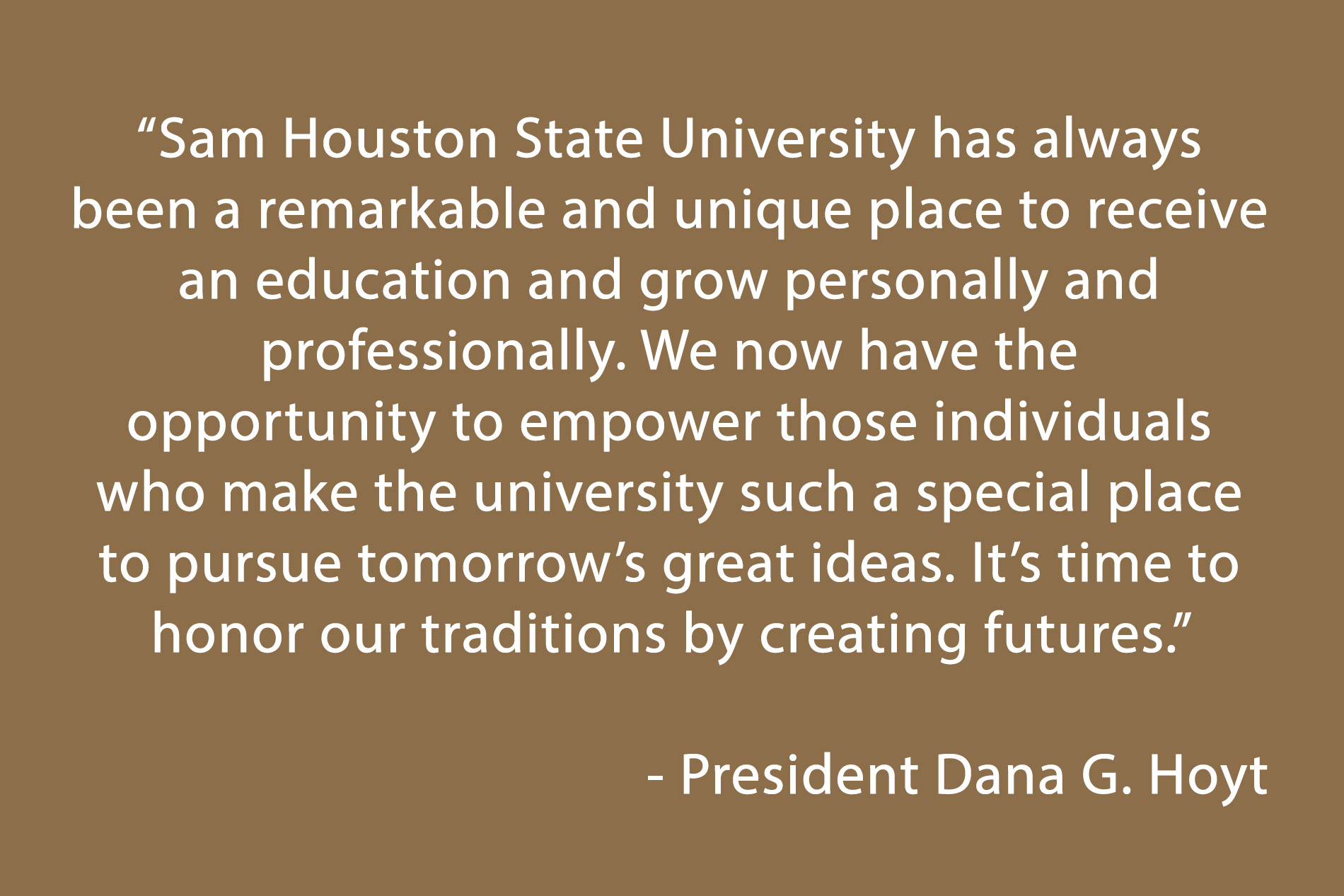 Sam Houston State University made history in 2006 when the university formally launched its first ever Capital Campaign. The campaign's $50 million goal was surpassed by more than $10 million in a shorter amount of time than originally thought, providing encouragement for future endeavors with larger goals to work toward.
While capital campaigns are typically associated primarily with bricks-and-mortar projects, in recent years these financial action plans have become much broader, addressing facilities, scholarships, programs, endowments, and more.
Just five years after completing its first campaign, the university has once again found that the school must make some major decisions about its future and the path it should take to move beyond its current status and ensure success.
"With university enrollment consistently growing, workforce changes dictating new program requirements, state and nationwide shifts in demographics, and increasing competition for the brightest and most talented students, faculty and staff, Sam Houston State University has found itself at the crossroads of determining what new direction the institution needs to take," said SHSU President Dana Hoyt.
With a goal of $125 million over five years, four priorities have been identified for fundraising:
Academic support and student enrichment
Startup funding for the proposed Doctor of Osteopathic Medicine program and program enhancement for Health Sciences
A facility upgrade at Gibbs Ranch for Agricultural Sciences; and
A Westside Complex renovation at Bowers Stadium for Athletics
"Sam Houston State University has always been a remarkable and unique place to receive an education and grow personally and professionally," Hoyt said. "We now have the opportunity to empower those individuals who make the university such a special place to pursue tomorrow's great ideas. It's time to honor our traditions by creating futures."
The cost of a college education has increased steadily throughout the years, yet SHSU has been able to offer an exceptional education while remaining affordable.
"We want to continue to give talented students opportunities that might not otherwise be available to them," said Hoyt. "However, this becomes more of a challenge as we face less federal and state funding, skyrocketing operational costs, and an increasingly competitive market for recruiting. To be able to attract future leaders, as well as eminent scholars and researchers, we need support from our friends and alumni."
Facilities are important, too. A university cannot deliver a valuable education and accomplish its goals without an investment in capital, as well as academics.
"Sam Houston State University is more than an institution of higher learning—we are a community," said Hoyt. "Investing in facilities that support our campus community and provide a stimulating learning environment guarantees SHSU's continued growth and strength.
"With the gifts that we receive from our supporters during this campaign, we can affect the type of transformative change that can be felt throughout the state and even and across the world," she said.