Theatre Quick Links
This program prepares students with a certification for theatre in Texas, Early Childhood through 12th grade (EC-12).
Education is the student's minor, no other minor is required.
Any regular SHSU major/degree may accompany that minor, e.g. BFA Theatre.
Students now take only one education course prior to Methods: Teaching Profession (CISE 3384).
Before taking Methods, student must register for a TK 20 account and pay a fee and then apply for admission to Methods the semester before beginning.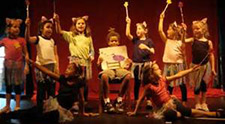 Students are required to take a theatre content practice test administered by the theatre department, which then will send an approval letter to Education. Education will issue a registration code to take the real content test, which is offered at select times and locations throughout the year.
The Methods Block is now 12 hours and includes Human Growth and Learning (CISE 3374) as well as the three previous methods courses: CISE 4364, 4367, and 4377.
During Methods, the students are assigned for 3 weeks at a nearby school. They may be enrolled concurrently in an additional on-campus course if needed.
For Student Teaching, students take the following 4 courses (12 hours): CISE 4380, 4394, 4396, and 4397. They are assigned 6 weeks at a middle school and 6 weeks at a high school.
Request More Information
click here