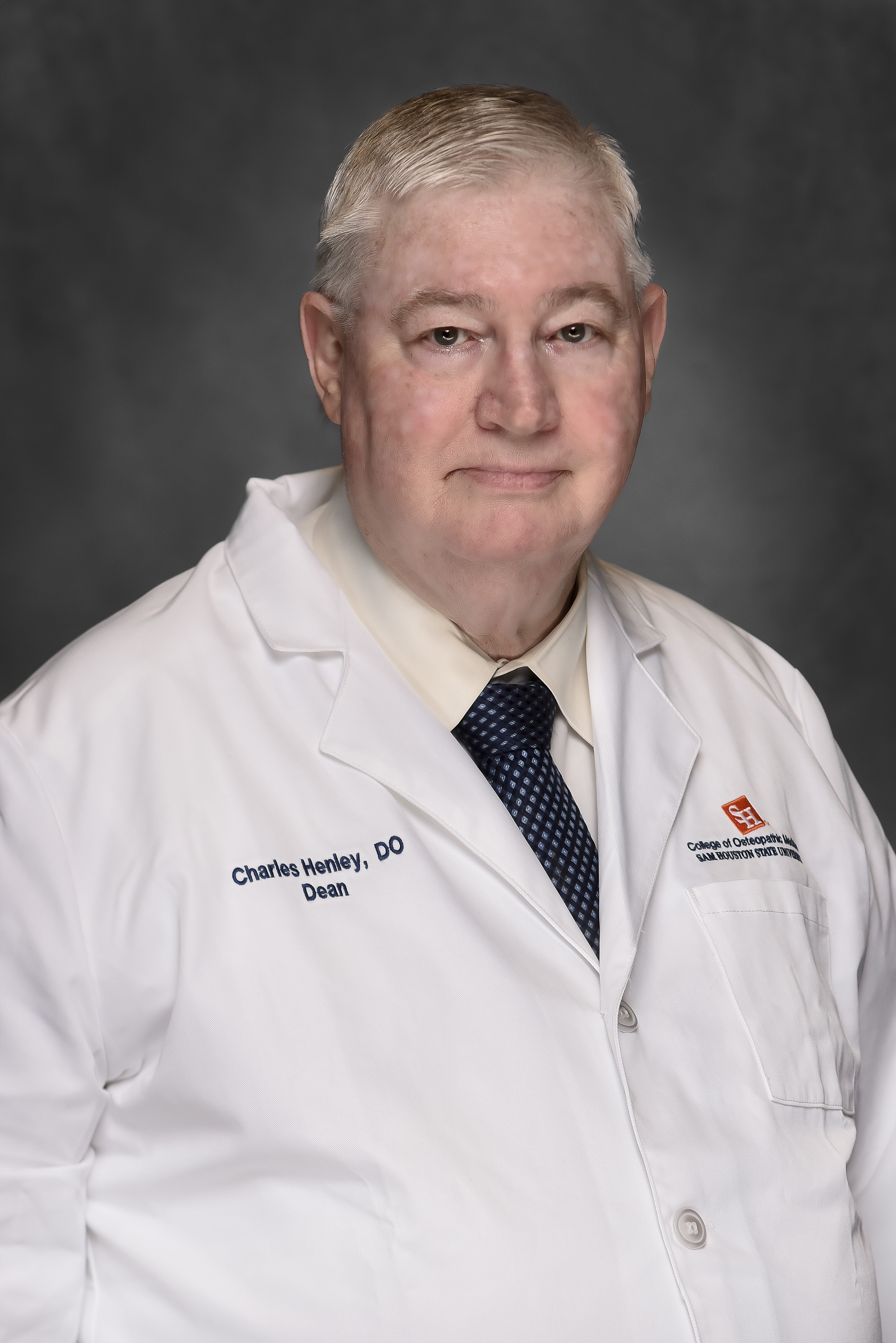 Dr. Charles Henley, was named founding dean of the College of Osteopathic Medicine at Sam Houston State University in November, 2016. Dr. Henley was the founding associate dean for clinical affairs at Marian University and served as an inspector for the Commission on Osteopathic College Accreditation (COCA).
Prior to being at Marian University, Dr. Henley was professor and vice-chair of the Department of Family Medicine at the University Of Oklahoma School Of Community Medicine in Tulsa, where he held the Founders and Associates Endowed Chair for Research and was responsible for building the clinical research program for primary care. He was also an American Council on Education (ACE) fellow from 2007-2008.
Before that, he was a tenured professor and chair of the Department of Family Medicine at Oklahoma State University, where he started the Division of Rural Health and the Division of Research through a combination of Health Resource and Services Administration (HRSA) and National Library of Medicine grants. He also served as the chair for the family medicine in-patient service.
Dr. Henley earned his osteopathic medical degree from Oklahoma State University in 1977 and completed a residency in family medicine with the Army Medical Corps in Washington, D.C. He continued his career with the Army, retiring in 1997 as a Full Colonel. During this time, he held several academic positions including residency program director, department chair, and was the first full-time director of the faculty development fellowship program at Madigan AMC in Tacoma, Washington.
In his last Army assignment, Dr. Henley served as the Chief of the Policy and Consultants Division in the Office of the Surgeon General and was the chief consultant to the Army Surgeon General. He also served as Commander of the 41st Combat Support Hospital out of Fort Sam Houston in San Antonio.
In addition to his other academic degrees, Dr. Henley has a Master of Public Health degree in epidemiology and biostatistics from the University Of Hawaii School Of Public Health. He is board certified by the American Osteopathic Association and is a fellow of the ACOFP, and the AAFP.
Email Address: COM-Dean@shsu.edu