Diversity, Equity, and Inclusion
Mission:
To foster educational excellence, promote community engagement, and embrace a culture of diversity, equity, and inclusion among all members of our COM. The committee will advance recommendations to other committees and the leadership of the COM in support of diverse students, faculty, and staff, as well as broader action towards increasing diversity across the community surrounding the College. The committee seeks to promote understanding and facilitate dialogue and scholarship intended to inform its stakeholders about the diversity characterizing members of our campus community and beyond, thereby combating racism, sexism, ableism, classism, homophobia, transphobia, xenophobia, and any other form of prejudice and discrimination.
Vision:
Educate and facilitate integration of all COM members into a mutually affirmative community while emphasizing the need for an environment conducive to holistic growth consistent with the fundamental principles of the college.
Goals:
raise awareness of the diversity existing within our multiple professional roles;
promote diversity, equity, and inclusion among faculty, students, and staff of our COM;
encourage integration of diversity training throughout our curriculum; and promote awareness of university and community events related to diversity and inclusion.
Members:
The Committee on Diversity, Equity, and Inclusion is composed of five faculty and staff members and five students for two-year, staggered terms. Five student members, including at least two from each of the first-year and second-year classes, are elected by the SHSU-COM student body. With the approval of the Executive Committee, the Dean may also appoint up to three additional faculty members to represent diverse perspectives within the College as are deemed appropriate. The committee shall meet at least three times per academic year. A representative of the College Diversity, Equity, and Inclusion Committee shall attend appropriate university meetings.
22-23 Chair: Dennis Wooten
Support: TBD
22-23 Members:
Keith Ahee
Cenaiyda Carranza
Christine Coursey
Perla
Marquez Dominicis
Rachel Erickson
Jaime Hinojosa
Tess Johnson
Kendal K

rumes
Mary Manis
Sureni Mullegama
Doris Newman
Talrah Pantallion
Amber Sechelski
Natasha Shah
Christopher Truong
22-23 Student Members:
Laura Knittig
Radhika Patel
Samyukthaa Saiprakash
Monica Wojciechowski
---
Upcoming Events:
January

National Blood Donor Month
National Mentoring Month
National Slavery and Human Trafficking Prevention Month (International)
Poverty Awareness Month

February

African American Heritage Month / Black History Month
Ethnic Equality Month
International Month of Black Women in the Arts
North American Inclusion Month (NAIM)

March

Gender Equality Month
National Developmental Disabilities Awareness Month
National Women's History Month
Spiritual Wellness Month

April

Autism Acceptance Month (Previously Autism Awareness Month)
Celebrate Diversity Month! (International)
Genocide Awareness Month
National Minority Health Month

May

Asian American and Pacific Islander Heritage Month / and Indian Heritage Month
Speech and Hearing Awareness Month
International Civility Awareness Month
Mental Health Awareness Month

June

Pride Month
African American Appreciation Month / and African American Music Appreciation Month
Black Lives Matter Month
Children's Awareness Month

July

National Make a Difference to Children Month
Social Wellness Month

August

Happiness Happens Month
American Artist Appreciation Month
Black Business Month

September

National Suicide Prevention Month
Childhood Cancer Awareness Month
Healthy Aging Month

October

AIDS Awareness Month
Breast Cancer Awareness Month
Fair Trade Month
Family History Month
Global Diversity Awareness Month
LGBTQ+ History Month

November

Military Family Month
Nation Native American Heritage Month

December

The Month of Giving
Universal Human Rights Month
Spiritual Literacy Month
The Diversity, Equity, and Inclusion Committee at SHSU-COM acknowledges that our webpage may not represent an exhaustive list of all holidays and events, but we recognize, appreciate, value, and support all people, populations, and cultures. We understand that the process of creating a truly inclusive environment is an ongoing journey. We strive to create a safe, equitable, and just space that embraces and celebrates diversity, encourages dialogue, and promotes understanding. We welcome feedback from our community members and encourage you to reach out to us via email at com-dei@shsu.edu with suggestions for events that should be included.
Current Events: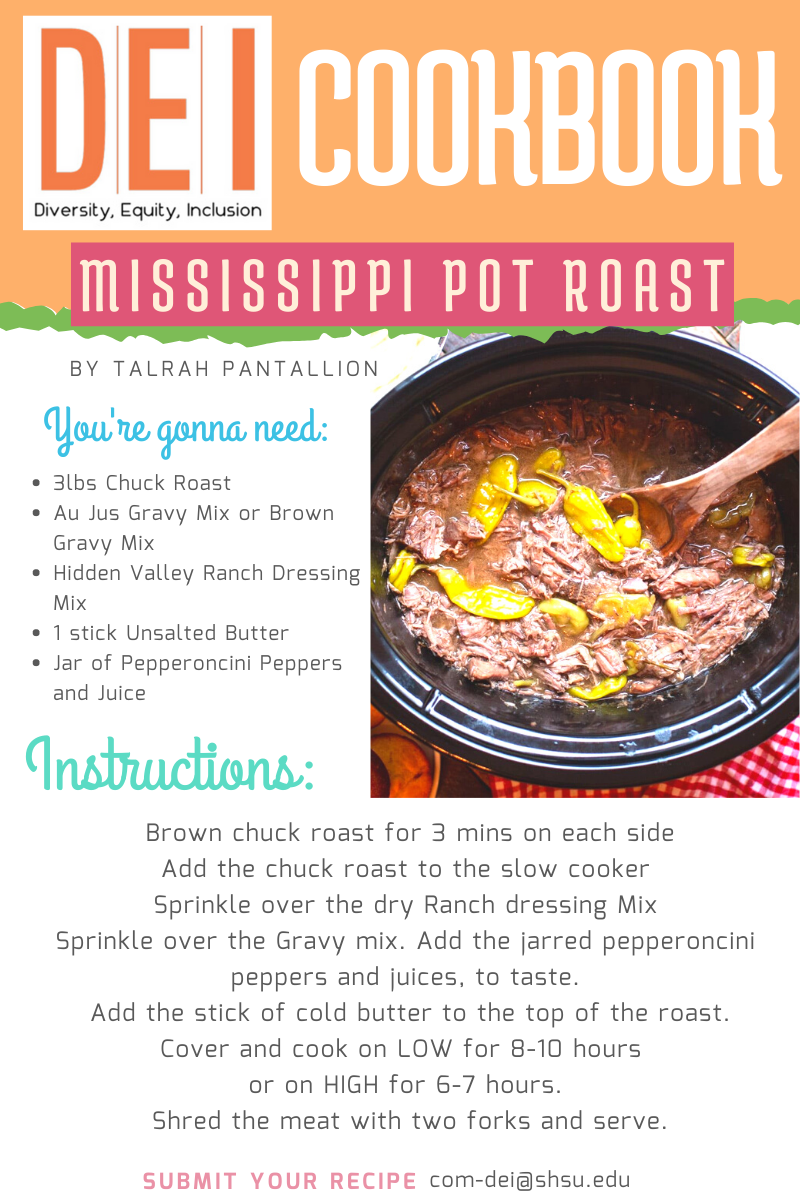 Past Events: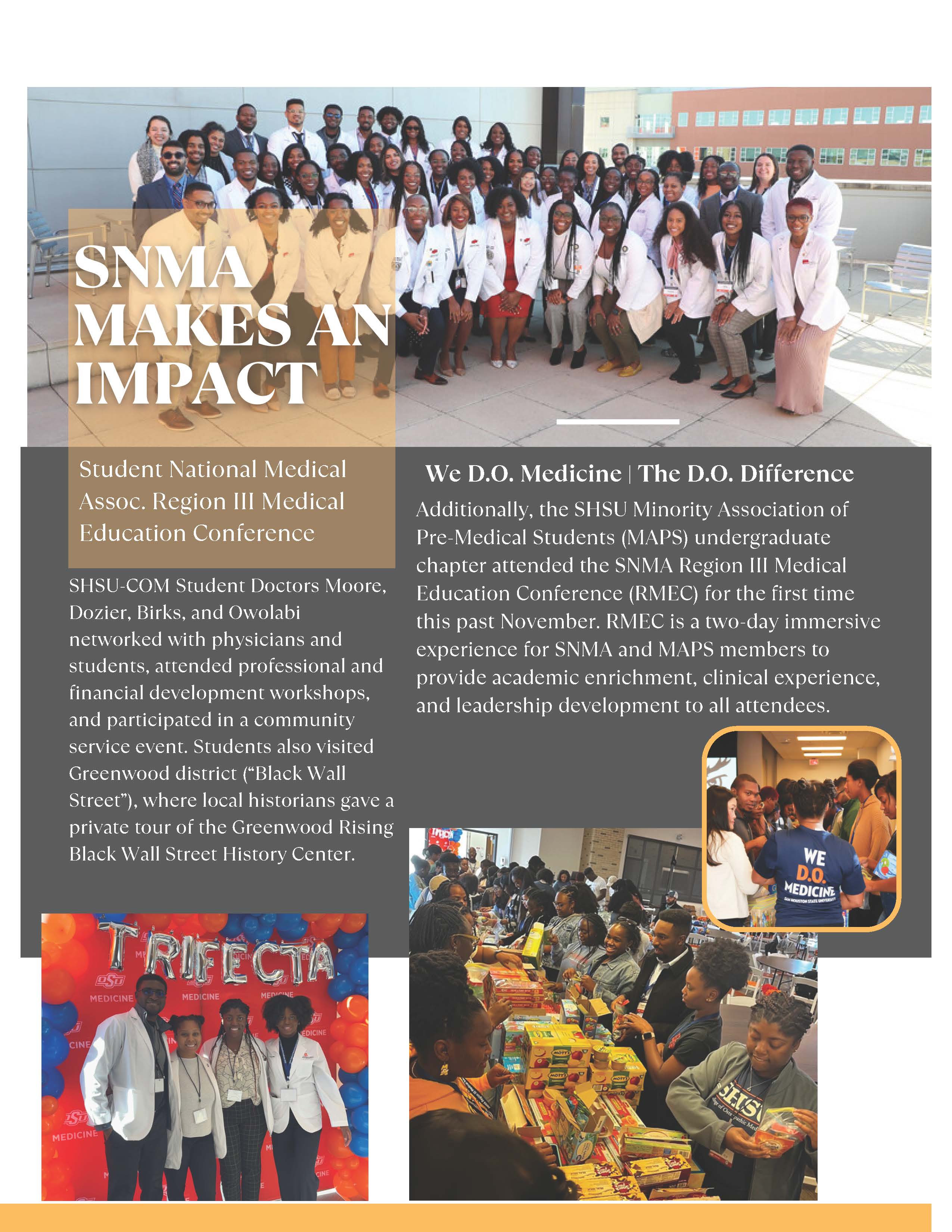 ---
DEI Resources: