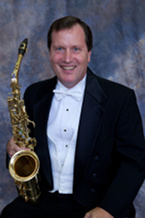 Director of the School of Music
Contact Information
plugge@shsu.edu
(936) 294-3808
School of Music 225E
Division
Winds
Scott D. Plugge is the Director of the School of Music, where his responsibilities include; teaching applied saxophone, chamber music, and administrative tasks. In addition to his duties at SHSU, Dr. Plugge is an active soloist/clinician. He also performs, on call, with the Dallas Symphony Orchestra.
As a soloist, Dr. Plugge has appeared in many concerts throughout the United States, Puerto Rico, Europe and China. John von Rhein of the Chicago Tribune stated that Dr. Plugge performed "with elegance and charm" and a "mellow" tone. The New Britain Herald states, Dr. Plugge performed with "effortless grace". The performance was "charming and evocative" and "the soloist showed off his virtuosity, giving rich, bronzy tones to the romantic melodies, a haunting mellowness to the slower passages and breath-taking alacrity to his solo passage." Dr. Plugge's awards include the state winner of the Music Teachers National Association Concerto Competition, an Outstanding Musicianship Award from the National Association of Jazz Educators at the Longhorn Jazz Festival, a Special Recognition Award (2001-2002) from the College of Arts and Sciences at Sam Houston State University and Dr. Plugge's biographical profile has been selected for inclusion in Marquis Who's Who in America as well as .Marquis Who's Who in Europe and Marquis Who's Who in American Education.
Prior to his appointment to Sam Houston State University in August 1997, Dr. Plugge served on the faculty's of Central Connecticut State University, New Britain, Connecticut; DePaul University, Chicago Illinois; Southern Methodist University, Dallas, Texas and the University of Texas at Arlington in Arlington, Texas. He has also served on the faculty of Baylor University as a sabbatical replacement.
Dr. Plugge is a former member of the Dallas Wind Symphony and the award winning Texas Saxophone Quartet. The Texas Saxophone Quartet was the 1987 winner of the prestigious Fischoff Chamber Music Competition. As a member of this group, he has appeared as soloist with the United States Navy Band in Washington D.C., the Dallas Wind Symphony, the Arlington Wind Ensemble, the Plano Chamber Orchestra and many others. They were named finalist in the Chicago Discovery Competition, and semifinalists in Concert Artist Guild Competition in New York. He has recorded with the Dallas Symphony Orchestra, the Dallas Wind Symphony and the Texas Saxophone Quartet. Dr. Plugge has also performed with the Chicago Saxophone quartet.
Dr. Plugge received his Bachelor of Music from Baylor University (1984) and his Master of Music (1985) and Doctor of Music (2004) from Northwestern University where he studied with renown saxophonist, Dr. Frederick L. Hemke. Dr. Plugge is an artist-clinician for the Conn-Selmer Company, Inc. and performs exclusively on Selmer saxophones.