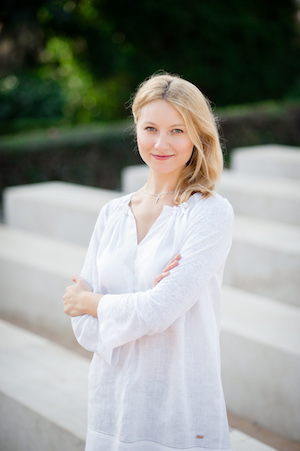 Adjunct Instructor, Piano
Contact Information
oxb005@SHSU.EDU
(936) 294-1394
Music 331
Division
Keyboard
Ukrainian pianist, Olena Blahulyak, at her orchestra debut at the age of 12 with the conductor Nikolai Suk was noted for her virtuosic energy-filled playing and musical sensibility. From an early age, she distinguished herself as a performer with innate musical maturity and outstanding technical abilities.
A native of Ukraine, Olena started to play piano at the age of 4. When she was 12 years old, she began her studies with Professor Sergei Ryabov at M.Lysenko School of Music (Kiev, Ukraine).
From 2004-2009 she was a student at the P. Tchaikovsky National Musical Academy of Ukraine, where she obtained her Bachelor's degree.
In Spring 2018 Ms.Olena has completed her Master's degree in Piano Performance at Sam Houston State University School of Music, receiving lessons from Dr. Josu de Solaun. She has recently joined the faculty of music at Sam Houston State University as a full-time collaborative pianist/coach and Piano instructor.
As a recitalist, Olena has performed in countries such a Russia, Poland, Switzerland, Ukraine, Romania, Spain, Guatemala, and the USA.
Ms.Olena is a first prize winner of the International Chamber Music Competition in St. Petersburg and Special prize winner of the International Piano Competition Ella Phillip in Romania.
In addition, Ms.Olena received master classes from Igor Ryabov, Vladimir Viardo, Guillermo Gonzales, David Dubal, Tali Morgulis and Giselle Brodsky.