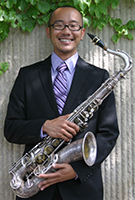 Associate Professor, Saxophone
Contact Information
mxs074@shsu.edu
(936) 294-1384
School of Music 313
www.masahitosugihara.com
www.awea-duo.com
Division
Winds
Masahito Sugihara is the associate professor of saxophone at Sam Houston State University. He earned the Doctor of Music and Master of Music degrees from Northwestern University as a student of Dr. Frederick L. Hemke. Previous studies include with Marshall Taylor at Temple University and a masterclass with Claude Delangle. Mas has appeared as recitalist and clinician in Brazil Canada, Norway, Japan, Scotland, and United States. He is a member of Awea Duo and Amethyst Saxophone Quartet, and has performed in the Chamber Orchestra of Philadelphia, Chicago Chamber Musicians, Chicago Lyric Opera, Chicago Symphony Orchestra, Ensemble Dal Niente, Grant Park Orchestra, Milwaukee Symphony Orchestra, Network for New Music, New York City Ballet, and Reading Symphony. An advocate of contemporary music, he has worked with such notable composers including, Lee Hyla, Christian Lauba, Lei Liang, Zhou Long, Alvin Lucier, François Rossé, Mari Takano, Hans Tomalla, and Marc-Anthony Turnage. As an avid arranger, Mas has transcribed a wide range of compositions for flute/sax duo, reed quartet, saxophone quartet, and larger saxophone ensembles.
Previously, he was the assistant professor of saxophone at Morehead State University and has taught saxophone and chamber music in the Chicago area at Northwestern University, Roosevelt University and Trinity Christian College.
Mas is a Rico Artist and performs on Rico Reserve Classic Reeds.