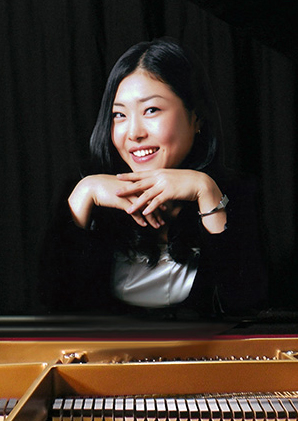 Collaborative Pianist
Contact Information
jxk028@SHSU.EDU
(936) 294-1372
School of Music 329
Division
Keyboard
Korean-born pianist Jinyoung Kim received her bachelor's and master's degrees in piano performance from Seoul National University on a full scholarship as a Graduate Teaching Assistant. She received her Doctor of Musical Arts degree in piano performance from The Ohio State University on a full scholarship where she taught applied piano, and sight-reading classes as a Graduate Teaching Associate in 2014. During her doctoral studies, she received the Outstanding Graduate Associate award, the Graduate Achievement award, and was a winner of The Ohio State University's DMA Concerto Competition. As a concerto competition winner of 2013, she performed as a soloist with The OSU Symphony Orchestra and her performance was featured on Classical 101 WOSU Public Media.
As a soloist, chamber musician, and collaborative pianist, Kim has performed at numerous performing art centers, recital halls, music conservatories, universities, churches, museums, and public libraries in Asia (China, Taiwan, South Korea, and Vietnam), Europe (Austria, France, Germany, and Italy), and North America (Canada, Mexico, Puerto Rico, and throughout the United States including Carnegie Hall in New York and the Kennedy Center in Washington D.C. In Korea, she was selected to perform a solo recital for the Kumho Artist Concert Series at Kumho Art Hall. In addition, she performed as a soloist with the Prime Philharmonic Orchestra and the Gunpo Philharmonic Orchestra at Seoul Arts Center. She has also appeared at prestigious international music festivals including Aspen and Salzburg, and she was invited to perform at the Mozarteum Viennese Hall.
She has also won significant competitions in Korea and the United States. In Korea, she was a prizewinner at The International Piano Competition of Korea, The Korean Piano Society Competition, Korean-American Music Competition, and Eumag Chunchu Piano Competition. In the United States, she was awarded first prize at the Los Angeles International Liszt Competition and the American Protégé International Competition. In addition, she was invited to perform at the Wideman Piano Concerto Competition as a semi-finalist and was awarded an honorable mention at the Bradshaw & Buono International Piano Competition.
Kim joined the faculty of music at Sam Houston State University as a full-time collaborative pianist/coach in the fall of 2015 where she collaborates with faculty members, guest artists, and students in recitals. Also, she teaches her private studio members in The Woodlands and presents master classes throughout the Houston area. As a member of HMTA, she has been an active adjudicator for many music competitions and festivals including the MTNA/TMTA Performance Competition, Blinn College Young Pianists Competition, Young Artist Competition (Cypress Creek MTA), Dr. Fred and Wanda Pauling Piano Competition (CCMTA), Betty Clampitt Piano Contest (Conro MTA), Conroe Music Teachers Fall Festival, and the Gold Cup Festival (Houston Federation of Music Clubs), as well as many regional competitions throughout California and Ohio.