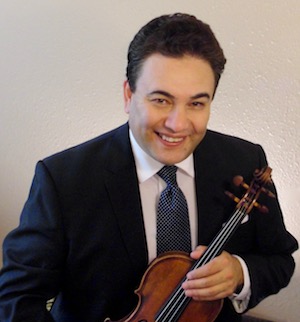 Professor of Violin, Coordinator of String Studies
Contact Information
javierpinell@shsu.edu
(936) 294-1380
GPAC 120A

Division
Strings
Javier Pinell is Professor of Violin and chairperson of string studies at Sam Houston State University. With a broad teaching experience, he also served on the violin faculty at the Interlochen Center for the Arts in Michigan for eleven summers.
As a two-time recipient of the prestigious Theodor Presser Award (1989 and 1997), Dr. Pinell has done pioneering research on compositions for the violin by contemporary Bolivian composers. The release of the groundbreaking recording Bolivia: The Unknown Sounds in 1998, which includes much of this newly discovered repertoire, was recognized by the Ministry of Education of the Bolivian Government. A second recording of works by Bolivian composer Gustavo Navarre was released in 2015. This work is titled The Rescue: The Surviving Musical works of Gustavo Navarre. Pinell's research on Navarre's compositions was also presented at The International Music Council for the Three Americas in Puerto Rico (2016).
Other scholarly endeavors include the recording of works by German composers Felix Draeseke and Arnold Krug (2005). A first of its kind, this historical recording was made using the distinctive string instruments originally intended by the composers: a matching set of violins, viola, violotta, cello, and cellone designed by physicist Alfred Stelzner.
As a violinist Dr. Pinell has traveled extensively, with performances on four continents. As a teacher, he has given master classes in the United States, Germany, China, Mexico, Argentina, Peru, Colombia, Ecuador, and Bolivia. As a chamber musician, Dr. Pinell is a founding member of the Lindsayan String Quartet, an ensemble that held two prestigious residencies; a National Endowment for the Arts/Chamber Music America residency at Western Kentucky University (1995-1997); and String Quartet in Residence with the Midland/Odessa Symphony in Texas (1998-2002). Currently, he is a member of the Kolonneh String Quartet.
Alongside concertmasters and principal players of major orchestras around the world, Dr. Pinell represented Bolivia in the World Philharmonic Orchestra under Giuseppe Sinopoli in Tokyo, Japan (1987). He also represented Bolivia in the Simón Bolívar Orchestra in Caracas, Venezuela under José Antonio Abreu (1984).
Dr. Pinell has been actively involved in collaborating with developing music programs in Latin America. He was recently in Buenos Aires, Argentina (2017) in association with the Orquestas Infanto-juveniles de la Ciudad de Buenos Aires; in Santa Cruz, Bolivia (2017) in association with the Orquesta Juvenil de Santa Cruz; in La Paz, Bolivia (2017) in association with the Orquesta Filarmónica de El Alto and with the Fundación Bolivia Clásica. In addition, Dr. Pinell was in Bogota and Medellin, Colombia (2012) in association with the National Conservatory of Music and the Universidad Bellas Artes; in Leon, Mexico (2011) in association with the program "Música, Esperanza de Vida" (Music, Hope for Life); and in Cuenca, Ecuador (May 2009) teaching and performing in association with Fronteras Musicales Abiertas (Open Musical Frontiers).
Degrees: DM Florida State University (1999), MM Miami University, Ohio (1992), BM Wayne State University (1989).