Requirements to Become a RDN
Overview
Educational and Professional Requirements to become a Registered Dietitian Nutritionist include:
Completion of a minimum of a bachelor's degree at a U.S. regionally accredited university or college and course work accredited by the Accreditation Council for Education in Nutrition and Dietetics (ACEND) of the Academy of Nutrition and Dietetics.
Receipt of a verification statement from such an accredited program.
Completion of an ACEND-accredited supervised practice program consisting of a minimum of 1200 hours of supervised practice.
Passage of a national examination administered by the Commission on Dietetic Registration (CDR). For more information regarding the examination, refer to CDR's website at www.cdrnet.org.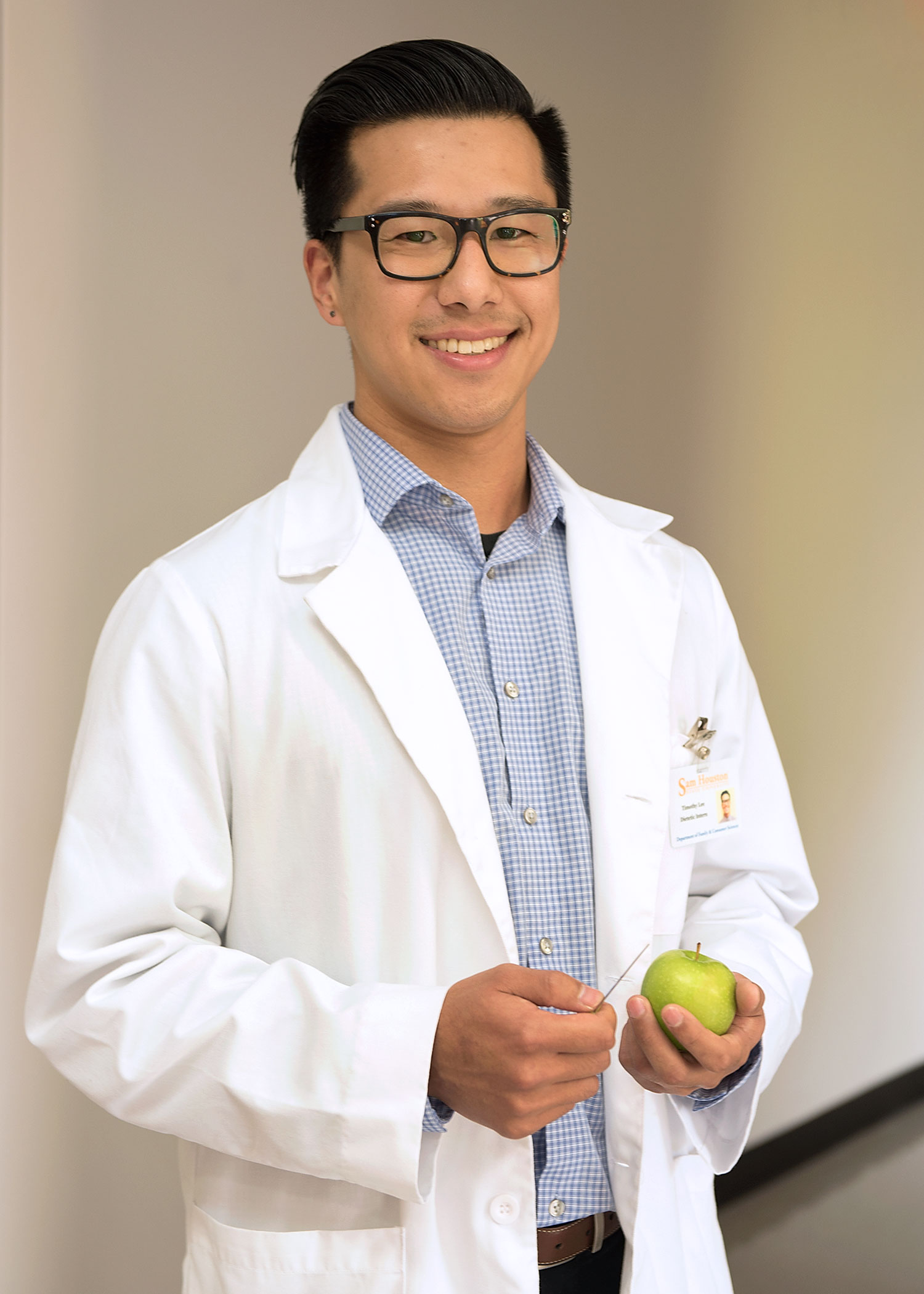 The Didactic Program in Dietetics (DPD) assists qualified students with completion of steps 1 and 2. Upon successful completion of the B.S. degree in Food Science and Nutrition (DPD) and a minimum 3.0 GPA, graduates will receive a verification statement indicating eligibility to apply for a dietetic internship. Sam Houston State University does not guarantee dietetic internship placement or selection.
Successful completion of the DPD also prepares students to sit for the Registration Examination for Dietetic Technicians. Click here for more information on becoming a Registered Dietitian Nutritionist (RDN) or Dietetic Technician, Registered (DTR)
*Beginning January 1, 2024, a minimum of a master's degree to take the credentialing exam for registered dietitians will be required.
Computer Matching
Student's pursuing the Registered Dietitian Nutritionist (RDN) credentials will participate in computer matching for all dietetic internship appointments, except when the program enrolls only employees of the sponsoring institution. Information on computer matching can be found here.
If you already have a bachelor's degree in an area other than dietetics and are interested in becoming a RDN, you can have your college transcript evaluated by our Didactic Program in Dietetics (DPD) Director. The program director will evaluate your previous academic preparation and identify the courses that you will need to complete at SHSU to meet the educational requirements for dietetic registration. Once the required coursework is complete, you will receive a verification statement indicating eligibility to apply to a dietetic internship.
Information about Verification Statements can be found here.