Dr. Madeleine Swortwood is an Assistant Professor in the Forensic Science Department. She has served as a forensic toxicologist in a postmortem laboratory as well as a postdoctoral research fellow at the National Institute on Drug Abuse, where she was an associate investigator in a controlled cannabis administration clinical study. Some of her major areas of interest include novel psychoactive substances, drug metabolite identification, drug detection in alternative and emerging biological matrices (particularly oral fluid), in utero drug exposure, and cannabis impaired driving. Her research goals are to develop universal techniques that are easily applied to working forensic toxicology laboratories from extraction to detection.
Current MS and PhD students in Dr. Swortwood's laboratory are involved in pharmacokinetic/pharmacodynamic studies of novel psychoactive substances (NPS) in animal models, improving detection and understanding stability of fentanyl analogs, chiral separation of novel stimulants, and developing LC-MS based screening techniques for drugs of abuse.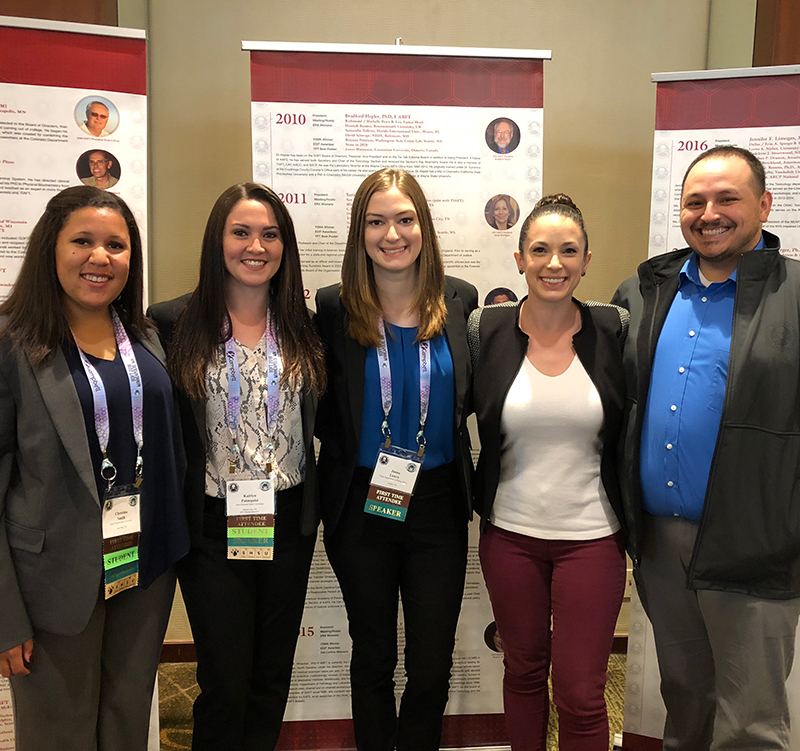 Current instrumentation within toxicology includes:
LC-QQQ (n=2)
LC-QTOF (n=2)
GC-MS (n=3)
HS-SPME-GC-MS
GC-FID/MS
Additional research endeavors
include:
Metabolite and biomarker identification
Structural elucidation using HRMS
Alternative matrices (oral fluid, hair, dried blood, etc.)
Analysis of authentic toxicological specimens
Postmortem toxicology interpretation
Comparison of drug impairment with oral fluid testing
Pre-clinical pharmacodynamic & pharmacokinetic studies
---
Research Updates
Pre-clinical research published in Neuropharmacology

June 2020

In this study, research collaborators at NIDA Designer Drug Research Unit dosed rats with a novel synthetic opioid, U-47700. They examined pharmacodynamics effects and we quantified U-47700 and its metabolites in plasma for pharmacokinetic modeling. Our study is the first animal model to examine a novel synthetic opioid in hopes of understanding more about the mechanism of these dangerous synthetic compounds.

Spring Graduation. . . over Zoom!

May 2020

Today we celebrated our Spring graduates… over Zoom! They each had a fun decorated slide made just for them. I am excited to congratulate Harlie Gooch on an outstanding Capstone despite all the difficulties with the laboratory shutdown due to COVID-19. Congrats on your virtual graduation and best of luck in your new job at SWIFS!

Research collaboration with CaaMTech and NIH

May 2020

On May 7, 2020 we announced a new research collaboration between Dr. Swortwood, CaaMTech and National Institute on Drug Abuse. Over the next few years, we will investigate tryptamine-based compounds to determine their abuse liability and potential use in a clinical setting. Our collaborators at NIDA will perform animal studies and all pharmacokinetic analysis will be performed at SHSU for analysis of psilocybin, DMT, and other synthetic psychedelic compounds. Full press release can be found here.

Outstanding Dissertation Award

April 2020

This week the College of Criminal Justice would have celebrated its annual Honors Day events by recognizing outstanding student leaders and alumni, honoring fallen alumni, presenting scholarships to academically gifted students, and highlighting faculty excellence. Once campus operations have resumed, we will find a way to commemorate and celebrate the following honorees:

OUTSTANDING DISSERTATION AWARD
Awarded to student whose doctoral dissertation reflects superior scholarship
Michael Truver, Forensic Science PHD, December 2019
Chair: Dr. Madeleine Swortwood

Recruitment Fair at UT

February 2020

From left to right: Dr. Houston and Dr. Swortwood

Recruitment of potential new graduate students is an important aspect of my position as Director of Graduate Programs. I am always looking forward to providing advice and advising to up and coming scientists. Here, we traveled to UT in Austin, TX to meet undergraduate students in the sciences.

Kaitlyn Palmquist's manuscript is published in JAT

February 2020

Kaitlyn Palmquist (doctoral student) published a study on the quantification of furanylfentanyl and its metabolites in human and rat plasma using the Agilent Ultivo. The method will ultimately be utilized to analyze rat plasma collected in a controlled drug administration study.

Research presented at AAFS Annual Scientific Meeting

February 2020

Christina Smith (doctoral student) and much of the Department of Forensic Science traveled to Anaheim, CA for the 2020 AAFS Annual Scientific Meeting. She presented a poster on chiral separation of methylphenidate. Dr. Swortwood served as program co-chair for the Toxicology section.

Dr. Swortwood presents invited seminar on "Toxicology 101"

February 2020

Dr. Swortwood presented "Toxicology 101" at the Advanced OWI Prosecutions training as part of the Traffic Safety Training Program offered by Prosecuting Attorneys Association Michigan (PAAM). The full-day workshop included presentations covering toxicology, Daubert, breath testing, prosecuting a vehicular homicide, and traffic safety legal update.