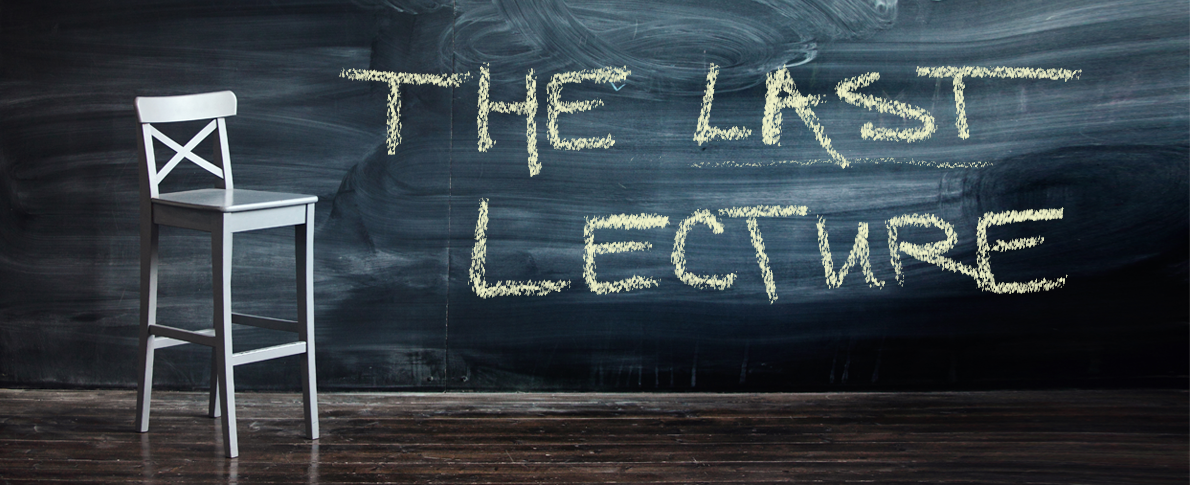 2018-2019 Recent Lectures
Wednesday, November 07th – DR. SAM SULLIVAN
Click here to view the Dr. Sam Sullivan video
---
Wednesday, February 14th – JERRY BRUCE
Click here to view the Jerry Bruce video
---
2016-2017 Recent Lectures
Wednesday, November 15th – BARBARA POLNICK
Click here to view the Barbara Polnick video
---
Monday, October 2nd – KEN HENDRICKSON
Click here to view the Ken Hendrickson video
---
Wednesday, February 22nd – TERRY THIBODEAUX (Communication Studies) - 2:00 Lecture in the LSC Theatre
Click here to view the Terry Thibodeaux video
---
Thursday, April 20th – MATT FULLER (Educational Leadership) - 2:00 Lecture in the LSC Theatre
Click here to view the Matt Fuller video
If This Were Your Last Lecture, What Would you Say?
On September 18, 2007, Randy Pausch, a professor of computer science, human-computer interaction at Carnegie Mellon University, delivered his last lecture entitled "Really Achieving Your Childhood Dreams". When Dr. Pausch stepped onto McConomy Auditorium at Carnegie Mellon, he had been fighting pancreatic cancer -- the deadliest of all malignancies -- for nearly a year, with surgery, radiation and chemotherapy. Pausch died on July 25, 2008 but not before leaving a legacy that continues to inspire millions.
Following in the footsteps of Pausch, Dr. Robert Maninger was inspired to start a Last Lecture series at Sam Houston State University.
"I've been contemplating doing a last lecture since the day I first saw Randy Pausch present his last lecture," says Maninger, who teaches in the Department of Curriculum and Instruction.
"I have long respected the colleagues that I have in all the colleges on the SHSU Campus, and I truly believe that they all have spectacular things to say in a Last Lecture."