Culture of
Assessment Data
Collection Data
Analysis Data
Evaluation Feedback Loop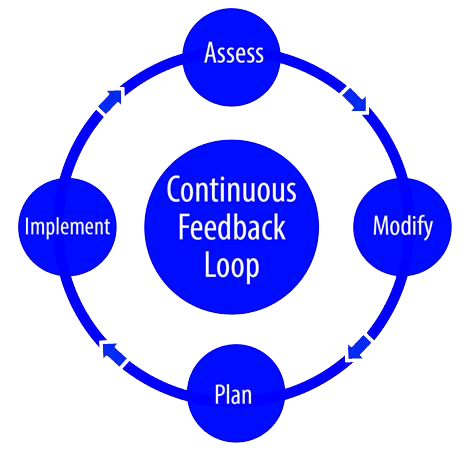 The Continuous Feedback Loop is an ongoing process that includes assessing student outcomes, modification, program planning, and implementation. The process, aligned to the Conceptual Framework, establishes a unifying mission, vision, and goals focused on educator preparation, data-driven decisions, and pathways to build the capacity of the College of Education. There are five steps in the process represented by the repetition of the continuous feedback loop.
The steps are:
Step One – Assess
Each fall, at the COE Faculty Meeting, performance and productivity data for the previous year is reviewed. Detailed unit and program data is electronically disseminated to faculty in each department, for use in planning for the next academic year. Data may include unit or faculty production and performance, TExES scores, key assessment data, semester credit hour production, graduate follow-up surveys, graduate retention data, field experience locations and demographics, unit demographics, student teaching evaluations and other qualitative and quantitative data.
Step Two – Modify
Using relevant performance or operations data, program coordinators, program faculty, program advisory committees, COE committees, school district partners, the Educator Preparation Advisory Council, and the Administrative Team discuss and analyze data to determine areas of strength and opportunities for improvement in light of the Conceptual Framework, the core values statement, and institutional, state or professional standards.
Step Three – Plan
Each semester, data review events provide opportunity for the faculty, the Sam Houston Innovative Partnership with Schools advisory group, and the Educator Preparation Advisory Council to develop recommendations for program changes. The COE Assessment Committee and the Dispositions Committee review data and assessments to develop or recommend revisions that may be needed. The Administrative Team or the Educator Preparation Leadership Team designate program faculty, administrative staff or an appropriate committee to carry out these revisions. Depending on the nature of the change, department, college, University, system or state approval may be necessary.
Step Four – Implement
Finally, requests for additional human, financial or facility resources are incorporated into the University strategic planning and budgeting process. Selected department and program goals, objectives, criteria for assessment, findings and actions are recorded in the SHSU Online Assessment Tracking system. Achievement relevant to program and department goals is reviewed by the Dean, in consultation with the Associate Deans and Department Chairpersons, and is included in the performance evaluation process. Individual faculty goals are reviewed by the Department Promotion and Tenure Advisory Committee and the Chair to promote professional development.
Step Five – Repeat
The process is repeated annually.