SHSU Honors LGBTQ+ Graduates with Fifth Annual Lavender Graduation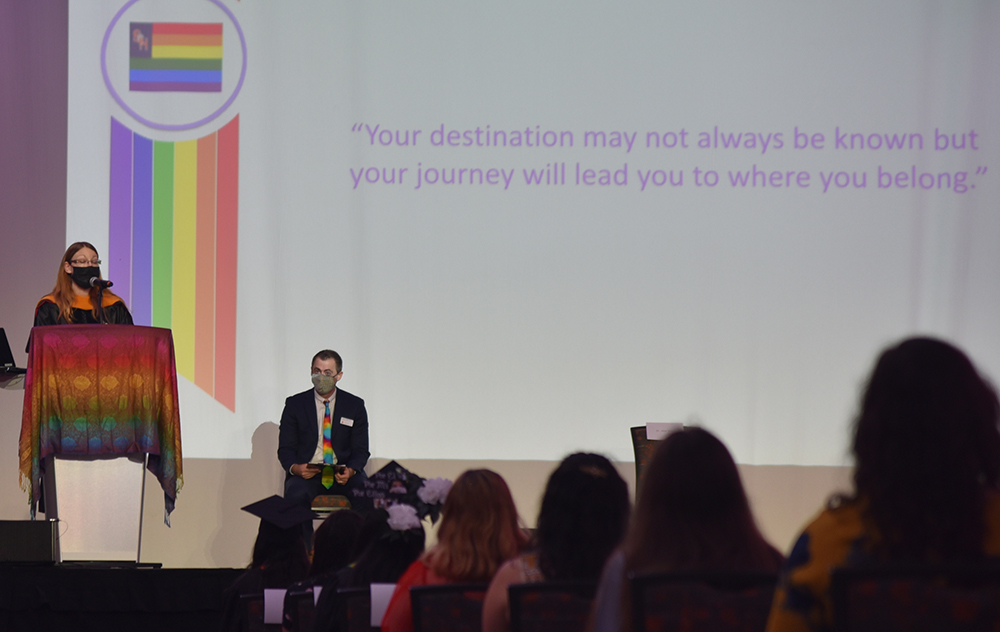 Last Wednesday, Sam Houston State University honored LGBTQ+ graduates with the fifth year Lavender Graduation.
Though this ceremony, which began in 2016, has some similarities to a traditional commencement, it gives graduating LGBTQ+ students a spotlight to celebrate with close friends, family, and mentors. At the commencement, students are given a certificate and a special honors cord to wear to the official Sam Houston graduation ceremony. After the cord and certificate is given to the graduates, they are given the opportunity to express gratitude to those who have been supportive through their journey.
This year, the Lavender Graduation honored 11 Criminal Justice graduates, including Lucy Wolf, a Criminal Justice Major from Temple, Tx. Wolf believes that the commencement is very special to her and Sam Houston LGBTQ+ graduates, saying, "Events like this are extremely important to have because many people in the LGBTQ+ community do not receive support for being themselves, much less graduating from college. College is the perfect time to find yourself and establish your own identity. I know I personally feel much more comfortable in my own skin than I did in high school. Now that I am graduating, I am finally confident in who I am and, for me, attending this ceremony is a perfect way to recognize that."
The Lavender Graduation has grown substantially since its inception in 2016 when it honored just seven graduates. At this year's commencement, the University will celebrate 31 graduating LGBTQ+ BearKats. The Lavender Graduation has gained support from the campus community, with faculty and university administrators from across campus attending to celebrate with the graduates as well.
Brandon Sanchez Gonzalez, who is also a Criminal Justice major was excited to be involved in the commencement as well, saying, "The reason I wanted to be a part of the Lavender Graduation is to celebrate as a graduate of the LGBTQ+ community, because as part of the community we face so many obstacles to just even be alive, and to be able to receive a college degree with all the strains we are tossed, should be something of celebration, especially as a person of color."
The Lavender Graduation was held in front of an invitation-only audience this past Wednesday and celebrated the accomplishments of LGBTQ+ graduates. This commencement is a proud tradition held by Sam Houston State University to show support and celebrate LGBTQ+ students and their achievements.