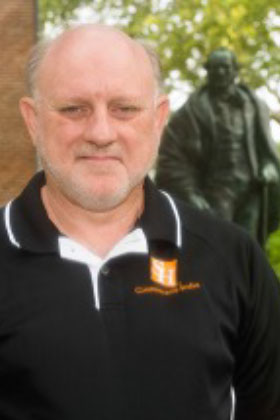 Terry and his wife Paula, have a son, Mark, who is also a graduate of SHSU in Graphic Design. Mark lives in Syracuse, NY with Papa Thibodeaux's only granddaughter, Adalyn.
After getting his bachelor's and master's degrees from McNeese State, Terry got his Ph.D. in Communication from the University of Southern Mississippi in 1986. His primary teaching and research interests have included Interpersonal Communication, Classroom Communication, Visual Communication, Culture and Intercultural Communication. He has taken students on field trips to Louisiana for many years to experience his beloved Cajun culture. He has also hosted a Mardi Gras Festival on the SHSU campus the week before Mardi Gras, bringing a Louisiana Cajun band to campus for all to experience and dance to.
Terry previously was the program coordinator for what was then called Speech Communication before he became an associate dean in the former College of Arts and Sciences, then served as Interim Dean at the inception of the College of Humanities and Social Sciences, before moving to an Associate Dean position in the college. He returned to the classroom full-time in 2008 while also serving as an academic advisor in the Sam (Student Advising and Mentoring) Center. He assumed the chair position in Communication Studies in January of 2016.