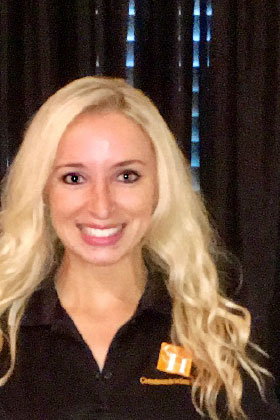 Shelby Alverson was born in Houston, Texas and raised in Dhahran, Saudi Arabia, which inspired an interest in communication and language at a very young age. Upon moving back to the United States after eight years overseas, Shelby was accepted to Texas A&M University. She knew before stepping foot on campus that she wanted to be a part of their communication program. Loving her communication classes and wanting to expand her horizons, Shelby traveled to Beijing, China where she taught for a summer at Tsinghua University. This experience instilled in her a passion for teaching and inspiring communication in the higher education atmosphere. Therefore, after graduating from Texas A&M University in 2013, Shelby applied to Sam Houston State University's Master of Communication Studies program and was admitted.
She worked as a Teaching Assistant to Dr. Zhang for the full two years of her master's program while soaking in anything and everything she could with the hopes of eventually finding teaching at the college level. She graduated with honors in May of 2015 and two months later had her first Adjunct Professor position with her new alma mater. Shelby was ecstatic to have the opportunity to go from student to syllabus-maker within her Bearkat family. The unwavering support from her family and professors played an integral role in her success throughout all of those years and continue to do so today.
Since August of 2015, Shelby has been contributing to the Communication Studies program at SHSU, as an adjunct professor, and could not be more proud! She also teaches communication courses at Lone Star College.