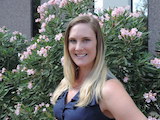 "Life is tough my darling, but so are you" – Stephanie Bennett-Henry
Dr. Lisa J. van Raalte is an Assistant Professor in the Department of Communication Studies at Sam Houston State University. Her scholarly interests include interpersonal communication, health communication, and sport communication. Using survey, experimental design, and quantitative methods, her research focuses on how communication in close personal relationships influence one's psychological, physiological, and relational health. Her research interests include, but are not limited to, affection, sexual communication, social support, and investment. In recent projects she has examined the relational health effects of cuddling in cohabitating romantic relationships, explored the rules and relational maintenance in friends with benefits relationships, and has examined concussion reporting for collegiate student-athletes.
She has published in journals such as Communication Research, Communication Reports, Journal of Family Communication, and The International Journal of Design Education. She has also co-authored several book chapters in texts such as Persuasion and Communication in Sport, The Sourcebook of Listening Methodology and Measurement, and the Encyclopedia of Family Studies. Her research has been recognized through top paper awards from the National Communication Association and Western States Communication Association. Dr. van Raalte received her Ph.D. in Communication from Arizona State University, and her master's and bachelor's degree from the University of Hawai'i at Mānoa.