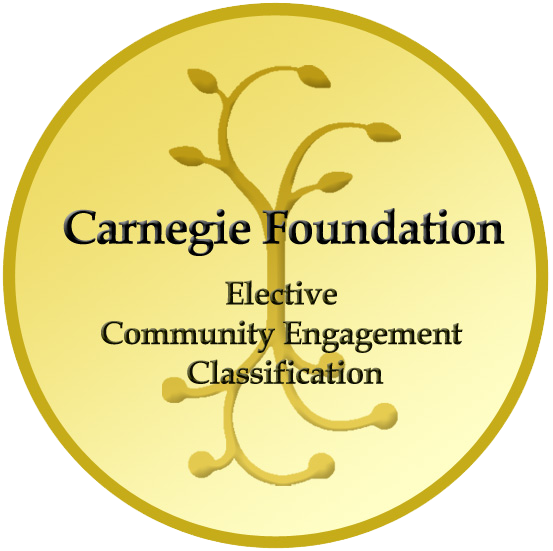 Sam Houston State University received the Community Engagement Classification from the Carnegie Foundation for the Advancement of Teaching, recognizing the university's commitment to serving the local, national, and global communities.
What is the Carnegie Community Engagement Classification?
The Carnegie Foundation's Classification for Community Engagement is an elective classification, meaning that it is based on voluntary participation by institutions. The elective classification involves data collection and documentation of important aspects of institutional mission, identity and commitments, and requires substantial effort invested by participating institutions. It is an institutional classification; it is not for systems of multiple campuses or for part of an individual campus.
The classification is not an award. It is an evidence-based documentation of institutional practice to be used in a process of self-assessment and quality improvement. The documentation is reviewed to determine whether the institution qualifies for recognition as a community engaged institution.
The Community Engagement Classification takes place on a five-year cycle. The next opportunity for institutions to apply for classification will be during the 2020 cycle (which will open in 2018).
In addition to the Elective Community Engagement Classification, the Carnegie Foundation also provides its all-inclusive classifications based on secondary analysis of existing national data. Information on the all-inclusive classifications can be found at http://carnegieclassifications.iu.edu/.
Source: New England Resource Center for Higher Education
---
2010 Classification
Of the 115 institutions that received the classification in 2010, 61 are public institutions and 54 are private; 37 are classified in Carnegie's Basic Classification as research universities, 40 are master's colleges and universities, 28 are baccalaureate colleges, six are community colleges, and four institutions have a specialized focus--i.e., arts, medicine, or technology. The classified institutions represent campuses in 34 states.
To learn more about the institutions that received the Community Engagement Classification in 2010 (and earlier), click here.
Source: New England Resource Center for Higher Education
---