Event Industry Honors SHSU Director of University Events With Prestigious Award
March 9, 2018
SHSU Media Contact: Emily Binetti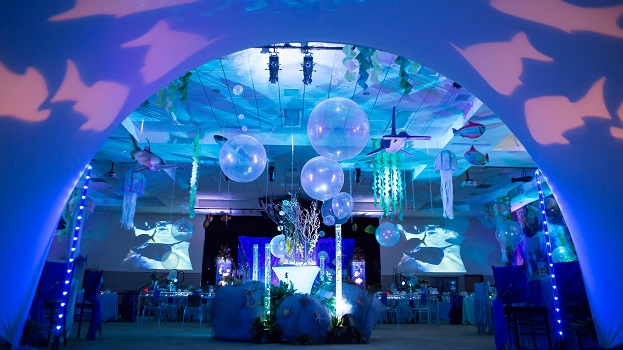 On March 4 at an awards ceremony held in San Antonio, Sam Houston State University Director of University Events, Charlene McWilliams, received a 2018 Texas Star Award for "Best Event for a Non-Profit Organization (under $75,000)".
Showcasing the best of the best in the special events industry, from design and decor to logistics and technology, The Texas Star Awards is the pinnacle mark of professional achievement. The program is hosted by the Texas Chapters of the International Live Events Association (ILEA).
"It was truly a magical evening and I'm thankful for the recognition received from TSA, we were in good company with the other nominees from around the state," McWilliams said.
The specific event that earned McWilliams the honor was last year's 13th Annual Academic Awards Dinner.
"The evening honors our outstanding faculty and their achievements, so we always try to make the event special and memorable for them," McWilliams said. "The theme was 'Under the Sea' and I really wanted to make guests feel like they were actually under water but I didn't want that to happen right away. I wanted it to have a wow factor."
To achieve this, the ambiance of the room changed throughout different phases of the evening.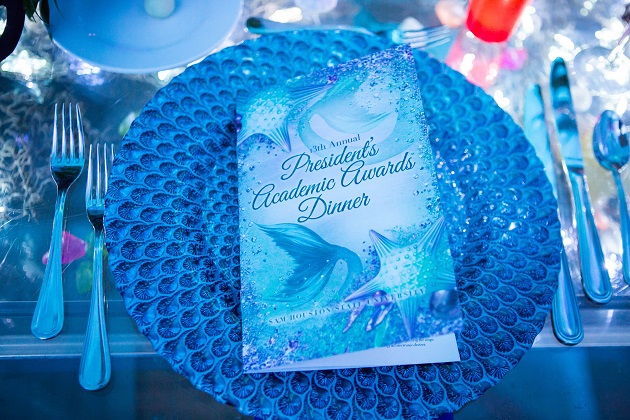 "As honorees and their guests registered and enjoyed cocktails and hors d'oeuvres, they spent time on the beach with a lifeguard stand, Adirondack chairs, palm trees and surf boards," McWilliams said.
When it was time for dinner, guests walked from the back of the ballroom (the beach setting) through a lit up 20' tunnel draped with custom-made seaweed and projections of fish swimming overhead. At the end of the tunnel is where the under the sea adventure began.
"The entire ballroom was transformed from a blank slate to an underwater wonderland," McWilliams said. "Custom backdrops depicting underwater scenes draped across the walls and stage. 8' – 10' crystal strands and oversized bubble balloons, along with seaweed, sharks, whales, fish and custom made jelly fish hung from the ceiling."
To create a sense of flowing motion, giant remote controlled fish "swam" through the air with projected lighting of moving waves.
From faux boulders and water filled bubble tubes, to shells, fish, nets, plants and coral, anything that could be imagined to be under the sea was part of the décor.
Sound also played an important role in transforming the room. As guest dined, the peaceful sounds of the ocean and waves filled the air.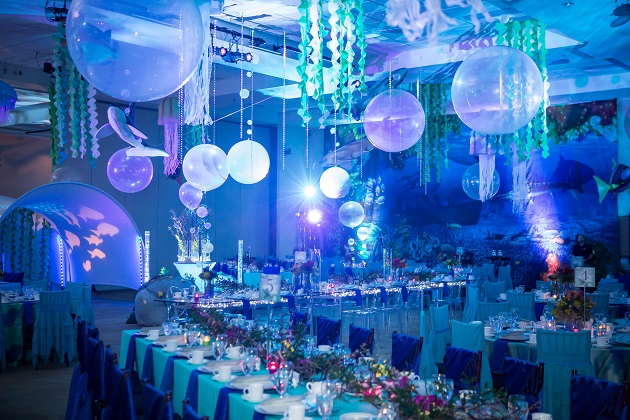 To implement an event of this caliber it truly takes a village. McWilliams credits the talents of several people and departments who helped make the evening possible including Riley Kleppelid, special events coordinator; as well as Charles Henson, Jonathan Kinsey and their team from SHSU Online for their lighting expertise and run of show support. Amy Bass-Wilson, Lori Proctor, Stuart King and the SHSU Press provided their skills for the invitations, programs and event collateral. Moreover, Aramark/Classic Fare Catering provided an amazing meal for guests.
Proudly displayed in her office is the new Texas Star Award. Having won the same honor last year along with numerous nominations, McWilliams describes her work at SHSU as her dream job.
"Being able to share my passion every day doesn't feel like work. I get to come up with creative and sometimes crazy ideas and turn those into amazing events for people to enjoy. Aside from working with some of the most creative people to help pull these events off, seeing our guests enjoying themselves during the events is what is most enjoyable to me."
Additional photos from the event can be viewed online here.
- END -
This page maintained by SHSU's Communications Office:
Associate Director, Communications: Emily Binetti
Thomason Bldg., Office 102
Telephone: 936.294.1836; Fax: 936.294.1834
Please send comments, corrections, news tips to Today@Sam.edu.
---