SHSU Recognizes Outstanding Staff Members
May 8, 2017
SHSU Media Contact: Julia May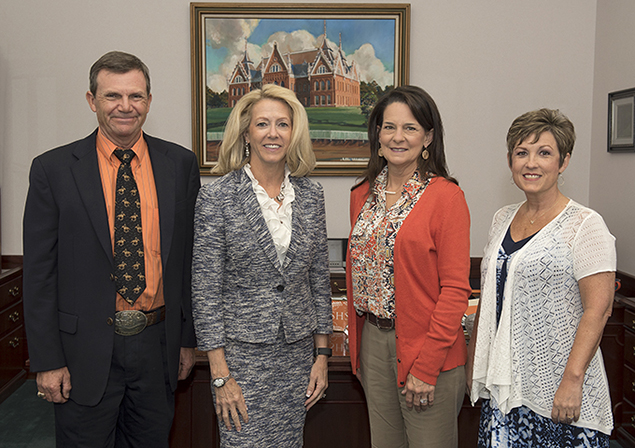 The recipients of the 2017 Staff Excellence Award, pictured with SHSU President Dana Hoyt, are (from left): Dennis Stepp, agriculture resources manager for the Department of Agricultural Sciences and Engineering Technology; Reba Van Dorn, assistant to the chair of the Department of Language and Special Populations; Kathy Allen, administrative coordinator for the Texas Research Institute for Environmental Studies; and (not pictured) Christine Teel, clinical coordinator for the School of Nursing. --
Photo by Brian Blalock
Four Sam Houston State University employees have been recognized for superior service and outstanding contributions to their individual programs and to the university.
The recipients of the 2017 Staff Excellence Award include Dennis Stepp, agriculture resources manager for the Department of Agricultural Sciences and Engineering Technology; Christine Teel, clinical coordinator for the School of Nursing; Kathy Allen, administrative coordinator for the Texas Research Institute for Environmental Studies; and Reba Van Dorn, assistant to the chair of the Department of Language and Special Populations.
Dennis Stepp
At Gibbs Ranch, Stepp maintains facilities, oversees student workers, and cares for the animals. He is valued by his co-workers for his attention to details and his willingness to assist others.
Among the comments made with his nomination for the Staff Excellence Award were:
"Each day is something new at a ranch, with daily responsibilities, as well as responding to SHSU faculty needs at the ranch as well as those of his student workers or visitors."
"He is well-liked with his outgoing personality—always pleasant and helpful. He is motivated to always do a thorough job and do it well. It is necessary on a ranch when perhaps you don't have all the equipment or resources you need. Dennis thinks on his feet and is flexible as problems arise, so that he can address each situation."
"Dennis cares about our students, always extending a hand to help or show the right way, and encouraging those who are trying their best. He always makes time for the students and seeks to serve those on the ranch so they can learn and grow."
"He is always willing to go above and beyond to help with class activities. He goes out of the way to make sure my students have resources to practice hands-on activities with livestock."
"He always strives to do top quality work. He is helpful and friendly in his interactions with students, faculty and staff. He has a strong work ethic and needs little direction to make sure his job is done correctly and on time."
Christine Teel
Teel has the responsibility of ensuring that all students for the School of Nursing are assigned to a clinical site. As part of her work, she must obtain clinical affiliation agreements with health care facilities throughout southeast Texas.
She collaborates with the health care facility and the assigned clinical faculty to make sure the School of Nursing has met the requirements of the health care facility. She also helps provide the faculty with the contact number to the health care organization to schedule orientations and conferences.
Some of the comments with her nomination were:
"Ms. Teel independently completes the daunting task of clinical coordinator. Some nursing programs have to employ a team of people to do what she does. Yet, despite the workload, she is always respectful, kind, compassionate, and professional to everyone."
"Ms. Teel is constantly looking for opportunities to improve the technology as it relates to collecting information and data about and four students."
"She is focused, dedicated and determined to secure the best clinical sites for the School of Nursing, which provide high quality clinical interactions for students. In the event that there are issues with clinical sites, she quickly works to resolve any problems. If the facility does not provide the best experience, she seeks out a different site to better meet the needs of students."
"Ms. Teel is an invaluable resource to the School of Nursing. I am grateful for all she does so that students are able to obtain the best clinical experience during the undergraduate nursing program. She is a blessing to this program and institution, and she is truly deserving of this award."
Kathy Allen
Among Allen's responsibilities as administrative assistant for TRIES are coordinating student worker hiring and schedules, managing operations and the budget of the research facility, and organizing archives associated with the research centers and TRIES. In her position, she must also work with a variety of departments across campus.
Comments with her nomination included:
"She always goes above and beyond expectations of performance and has the best organizational skills I have seen. She brings a great level of professionalism to the university community. Ms. Allen is always respectful to staff, faculty and clients and represents the university with the upmost integrity."
"Ms. Allen is always positive and meets challenges head-on. She is motivated by the unexpected and the opportunity to work with colleagues to problem-solve. She brings a positive attitude to every situation and inspires everyone around her."
"Both the Research Centers and TRIES have an important educational mission, which involves both students use of the facilities and student employment opportunities. Ms. Allen is instrumental in helping students with all aspects of our facilities. Her enthusiasm and work ethic help to instill an idea of lifelong learning for all students."
"With her background in English, she helps in editing promotional and research materials, department level correspondence and manuscripts and page proofs. Her math and finance experience also helps faculty and researchers maintain accurate budgets on grants and maintain accurate research expenditures."
Reba Van Dorn
As the assistant to the chair of the Department of Language, Literacy and special Populations, Van Dorn is often the "first impression" of the program. She is considered an active member in the decision-making process for the department, and her co-workers often seek her advice because her opinion is respected.
Some of the comments with her nomination were:
"She has created a warm and welcoming environment for students, faculty and staff. Many times, she is the first person that students talk to in the office. She is kind and courteous. If she does not know the answer, she will find someone who does."
"She is a consummate professional—thoughtful, confident, proactive, and always pushing us to do more and to value the work that we do. She manages a multitude of tasks and faculty requests, many of which are last minute, with a seamless approach that gets work done quickly and correctly."
"Ms. Van Dorn has excellent communication skills, is a problem solver, possesses great writing skills, is highly organized, is a great mediator and supervisor of student workers, and meets the needs of our department with ease and excellence, while being professional, artful and skillful."
"Our department is on time with everything, thanks to the Reba's organizational skills. Her positive and professional attitude is infectious, and I believe she does this job so well because she believes in the mission and goals of not only our department, but the broader SHSU mission and goals as well."

- END -
This page maintained by SHSU's Communications Office:
University Communications Manager: Emily Binetti
Located in the 115 Administration Building
Telephone: 936.294.1836; Fax: 936.294.1834
Please send comments, corrections, news tips to Today@Sam.edu.
---