Vienne Honored By National Organization
May 16, 2017
SHSU Media Contact: Julia May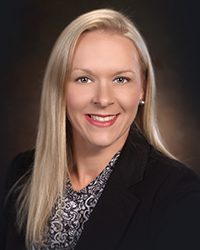 Dr. Kristy Vienne
Kristy Vienne, assistant vice president for student affairs at Sam Houston State University, has been named the recipient of the 2017 Distinguished Service Award by the National Association of Campus Card Users.
She was presented the award at the annual NACCU Conference in Orlando, Florida, last month.
Along with contributions to the industry through technology development, sharing solutions within the industry, serving on advisory boards and as a volunteer, and involvement in industry activity that is above and beyond an individual's job description, a recipient must have demonstrated a courage of conviction with a "pioneering spirit, published material and presentations."
"Kristy has worked tirelessly with this organization over the years to improve its operation, conference and committee structure," said SHSU Vice President for Student Affairs Frank Parker.
"Her contributions to the card industry and new professionals have been both innovative and numerous," he said. "Her vision for the card industry has set the standard for the future, not only at Sam Houston State University, but many other institutions as well, and it will have a positive effect for years to come."
Vienne was recognized for being instrumental in developing a student payroll and refund disbursement program at SHSU with BankMobile. After beta testing, the program went live in 2006 and is in use today. Based on the success of the program, it later has become a model for other campuses to use.
Vienne also worked with BankMobile to implement a dual mag-stripe system. This separated the financial/banking mag-stripe from the on-campus mag-stripe, making the system more secure while lessening the amount of financial data being transmitted. She also partnered with BankMobile to develop and launch an athletic travel advancement program.
She has also been instrumental the development of an event tracking program that will allow SHSU students points for attending campus events. The points can be cashed out for various food or merchandise items. Additionally, there are larger incentives including scholarships and rebates. The program will be beta tested over the next several months.
During the past 13 years, Vienne has been active in NACCU, serving on the board of directors and as board secretary and board president. As a member of the NACCU Education and Conference Committees, she proposed development of both the New Professionals Institute and Professional Development Program for the NACCU annual conference. The programs were approved and are currently being offered.
"I am truly honored and humbled to have been nominated for this award by my peers in the industry," Vienne said. "I am very proud of the work that I have contributed to the industry in general and to NACCU.
"Working alongside the best colleges and universities in the country have continually challenged me to keep thinking outside the box," she said. "My colleagues at NACCU and at Sam Houston State have contributed greatly to my endeavors in the field, and I am ever grateful for their continued support and encouragement."
- END -
This page maintained by SHSU's Communications Office:
Associate Director, Communications: Emily Binetti
Thomason Bldg., Office 102
Telephone: 936.294.1836; Fax: 936.294.1834
Please send comments, corrections, news tips to Today@Sam.edu.
---