Eglsaer Named Provost
Feb. 1, 2017
SHSU Media Contact: Julia May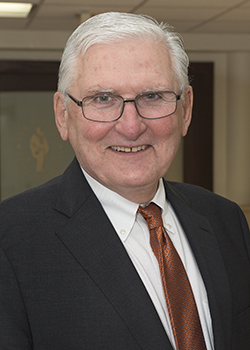 Richard Eglsaer
Sam Houston State University President Dana Hoyt announced today that Richard Eglsaer has been named provost and vice president for academic affairs, effective Feb. 1.
Eglsaer has been serving in the interim provost position since July 1, 2016, and had been SHSU's vice provost for three years prior to his interim appointment.
"We received applications from a number of strong candidates when we conducted a national search earlier in the year," said Hoyt. "However, after thoughtful consideration and consultation with members of the search committee and campus leadership, I decided that it was in the best interest of the university to suspend the search and extend Dr. Eglsaer's appointment.
"His leadership skills, the experience he has acquired during his 34 years at Sam Houston State University, and his proven stability are invaluable to the university," she said. "Dr. Eglsaer understands the history and culture of SHSU better than anyone we could bring in, and we will depend on his guidance as we phase in new programs and more comprehensive student success initiatives."
Eglsaer came to SHSU in 1983 as an assistant professor of psychology. He later served as chair of the Department of Psychology and director of the University Honors Program.
In 2000, he was named associate vice president for academic affairs and associate vice provost in 2008. During this time he was responsible for supervision of The University Center in The Woodlands, Sam Houston Advising and Mentoring Center, Student Success Initiatives, Office of International Programs, and the Northwest Houston Campus at University Park, as well as several centers and programs designed to provide student support and improve retention.
While at SHSU, he has also served on the Council of Academic Deans, the Council of Associate Deans, the Academic Policy Council, Academic Affairs Committee, the Undergraduate Education Advisory Committee for The Higher Education Coordinating Board, and various ad hoc assignments from the president and provost.
He also served on the executive committee for the Southern Association Accreditation Committee.
"I am honored to accept the challenge and duties of the Office of the Provost," Eglsaer said. "Having worked with (former provosts) Dr. David Payne and Dr. Jaimie Hebert over the past 16 years, I have been fortunate to learn from some wonderful models. Together with our exceptional group of deans and associate vice presidents, we look forward to assisting in the growth of our great institution."
- END -
This page maintained by SHSU's Communications Office:
University Communications Manager: Emily Binetti
Located in the 115 Administration Building
Telephone: 936.294.1836; Fax: 936.294.1834
Please send comments, corrections, news tips to Today@Sam.edu.
---