Film Program Receives Extensive DVD Collection Donation
June 8, 2017
SHSU Media Contact: Lane Fortenberry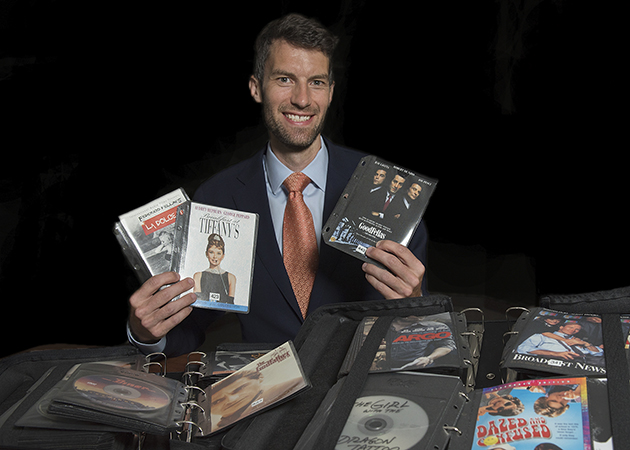 Sam Houston State University's Department of Mass Communication has received a DVD collection of 776 films and TV shows with an estimated value of $3,880 in support of its Bachelor of Fine Arts in Film and TV Production and Bachelor of Arts in Mass Communication – Film programs.
The collection was donated by Franci Neely, former business litigator for over 20 years and founding chair of the Houston Cinema Arts Society. She currently sits on the board of numerous art organizations and is a philanthropist and cinephile.
The DVD collection includes films from across all genres and decades such as "All About Eve," "Casablanca," "Citizen Kane," "Goodfellas," "The Lion King," "Pulp Fiction," "Little Miss Sunshine," and the Harry Potter saga.
Neely contacted Marian Luntz, film and video curator at the Museum of Fine Arts in Houston, and expressed that she wanted to seek an appropriate beneficiary for the collection.
"The DVDs themselves were just sitting there beautifully organized, but not helping anyone," Neely said. "I thought this should go to work so that someone can enjoy these. It was really a practical consideration that inspired me to think that someone could really use it and want it."
Luntz thought of Grant Wiedenfeld, assistant professor of mass communication at SHSU, and the growing film program at SHSU for the donation.
"I contacted Marian and Franci and told them the collection would be significant for our program, which didn't have a resource like that," Wiedenfeld said. "Film is a part of the department that's growing, and one of the reasons for that is the conversion of the whole film industry to digital.
"There's not the kind of division there used to be between people who did TV and video on one hand and people who worked in film on the other hand," he said. "Our department used to concentrate on television and radio broadcasting, but now everybody uses the same equipment."
Neely hopes the films will be shown to students on the big screen, the way they were designed to be seen.
"Call me old-fashioned, but I really believe that people who do not see films on big screens and communally are losing out, as opposed to on their laptops or tablets," she said. "That's a far different experience from looking at your tablet where you can be easily distracted and the visuals are much less interesting.
"I hope they're used to contrast different filmmakers' styles and the evolution of film over the years," she said. "There really are endless possibilities. I met Grant and can tell he has a very large, active brain, and he will undoubtedly think of numerous ways to use these DVDs for the good of the student body, faculty and community of Sam Houston State."
Wiedenfeld said the films will be used by the faculty for teaching and students who want to study the movies.
"The way we're going to try and set it up is for the faculty and students to check out the movies from our equipment room," he said. "It's normal to show examples of how to do something and how not to do something in film classes. Having this resource is a good addition to using YouTube or what someone might be using in their personal collection. How many people have 776 movies in their personal collection?
"You may have access to that many movies through Netflix or another streaming service, which is great, but what's available on Netflix is always changing," he said. "If you want to teach the same classic films many times, you always want to have it available for you. As far as students go, I think in the future it may be more useful as we develop more classes in film history and criticism, such as classes that study particular directors or periods."
Neely's love for film was galvanized when former Houston mayor Bill White asked her to spearhead a film initiative in the city, which became the Houston Cinema Arts Society. Through the initiative, a nationally known film festival was created, the Houston Cinema Arts Festival.
The festival is held toward the end of the year and has featured guests such as Shirley MacLaine, Robert Redford, Tilda Swinton, Isabella Rossellini, Ethan Hawke, Richard Linklater, and John Turturro. Last year, critically-acclaimed movies including "La La Land," "Jackie" and "Lion" were screened among others.
"We were blessed with those films and have had lots of very fine people in the film industry come and help us celebrate this coessential American art form—film," she said. "We are not a silo," she said. "We do this for arts and culture in Houston and to highlight the incredible treasure that Houston has that Houstonians and the surrounding community don't even realize. That's what we're striving to do. It takes a big village, and we have a big village here."
Both parties hope to see a relationship blossom through the DVD collection donation with opportunities for students and faculty.
"As our program expands, we want to get our students involved in different aspects of the Houston film scene," Wiedenfeld said. "The Houston Cinema Arts Society is both an important film festival, and one of the points of communication of different film events and people. The donation is kind of the beginning of the relationship with us and them and, more broadly, it reflects our film program growing and trying to get more involved with the Houston film culture."
"I don't think we have had collaboration with Sam before this, but boy we will after this," Neely said. "That's one of the things that we discussed with Grant and he was very receptive. I've talked to the executive director of the Houston Cinema Arts Society about it, Patrick Kwiatkowski, and he is reaching out to Sam. We see lots of ways we can work together from a volunteer basis, to maybe internships, to getting faculty members involved. It's exciting the many, many ways we can help each other."
Just like an English department needs to have a collection of books for teaching and reading, a film department needs to have a collection of films, according to Wiedenfeld.
"It's an important resource for the growing film program," he said. "I think the more resources our programs have is good for the university in general in raising the quality of education, which is one of its big goals. It's important for the quality overall and seems like one piece of the puzzle of having a big, robust film program."
- END -
This page maintained by SHSU's Communications Office:
Associate Director, Communications: Emily Binetti
Telephone: 936.294.1836; Fax: 936.294.1834
Communications Manager: Wes Hamilton
Telephone: 936.294.1837; FAX: 936.294.1834
Communications Writer: Hannah Haney
Telephone: 936.294.2638; FAX: 936.294.1834
Thomason Building: Suite 102
Please send comments, corrections, news tips to Today@Sam.edu
---