SHSU Dance Profs' Work To Play Pivotal Part In Upcoming TV Episode
Jan. 29, 2016
SHSU Media Contact: Jennifer Gauntt
Chelsea Keller contributed to this story.
Fans of the ABC television show "American Crime" will have a special treat in store for them on Feb. 3—a pivotal scene in the show's fifth episode will include a dance scene choreographed by Sam Houston State University dance professors Andy Noble and Dionne Sparkman Noble.
While dance and crime may not seem to fit together, "American Crime" producer and creator John Ridley is a fan of dance and wanted to include a piece in the show's second season, which centers on a working-class scholarship student-athlete on an Indianapolis private schools' championship-winning basketball team who accuses team members of sexually assaulting him.
The incident is photographed and posted online, and the show delves into issues such as social class, homophobia, cyberbulling and racism, according to a show description.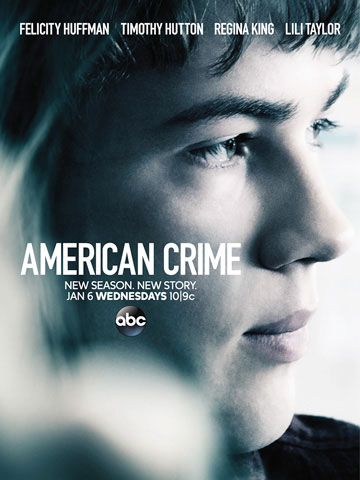 Catch up on "American Crime" and see previews and an upcoming behind-the-scenes preview for next week's episode here.
"'American Crime' is the HBO of ABC; it goes against the grain of traditional network TV and gets into some pretty challenging and gritty issues," said Sparkman Noble.
"Since rape is the crime, there is a big emphasis this season on touch and intimacy, specifically when it is appropriate and when it is not," she said. "John Ridley wanted to use dance as a metaphor in the sense of touch; so dance is used to add to this discussion."
On the show, the dance is part of a gala the school hosts to distract from the political issues associated with the accusations.
The Nobles got involved with the project after Ridley attended a dance concert in Houston by the couple's dance company, NobleMotion, and had ABC reach out to them in the fall about the possibility of choreographing a scene for the show's second season.
The Nobles then worked with Ridley—who is an Academy Award winner and wrote the screenplay for the film "12 Years a Slave"—for two weeks to create the piece and then collaborated with composer Mark Isham for the music.
The final project is unique in a variety of ways.
First, dance has never really been used in network TV like this before; this dance not only highlights a very serious, compelling issue, but, in the context of the series, significantly changes the course of the story, according to Sparkman Noble.
"John is taking huge risks," she said. "We are used to seeing dance used for entertainment, like in 'So You Think You Can Dance,' or in competitions. Instead, dance is being used to bring light to an issue such as rape."
The four-minute dance also will be shown in its entirety in the middle of the drama and was done in a single shot, without edits.
"Normally, dance pieces are one to two minutes, and here in the middle of this television show, we have choreographed a four-minute dance piece. It is an honor," Noble said.
In addition, the dance was filmed using an NFL wire camera (used to shoot NFL football games), which allows the audience to feel like it's right in the middle of the action.
"The NFL wire cam requires four operators and is choreographed into the middle of the dance," Noble said. "So it is really unique."
Finally, the dance also includes one current SHSU student and four SHSU alumni, and nine of the 10 dancers are from Texas, something the couple said was very intentional.
"We have really talented students coming out of SHSU, so when we were asked to do this show, we were given some guidelines for casting but we wanted to use some of our alumni," Noble said.
As advocates for dance, the Nobles said they appreciate that this opportunity will both expose a significant audience to the powers of dance but also show our students the possibilities of the field.
"To have serious concert dance happening on national television, with an audience of millions, provides fantastic exposure to Texas, Houston and, more specifically, Sam Houston," Noble said.
"It is incredible and it will show our students and future students that it doesn't matter where you are, if you focus, you can still make really great work that might even be seen nationally," he continued. "I think in that way, to be a role model for students is very satisfying."
Following its first season, "American Crime" was nominated for 10 Emmy and three Golden Globe awards. It airs on Wednesday nights at 9 p.m., central time, on ABC 13.
- END -
This page maintained by SHSU's Communications Office:
Associate Director, Communications: Emily Binetti
Telephone: 936.294.1836; Fax: 936.294.1834
Communications Manager: Wes Hamilton
Telephone: 936.294.1837; FAX: 936.294.1834
Communications Writer: Hannah Haney
Telephone: 936.294.2638; FAX: 936.294.1834
Thomason Building: Suite 102
Please send comments, corrections, news tips to Today@Sam.edu
---