Students To Bring 'ACE' Theatrics To Library Program
Oct. 14, 2016
SHSU Media Contact: Emily Binetti
This story was written by Angela Theis.
The Sam Houston State University Department of Theatre and Musical Theatre has partnered with the Huntsville Public Library to provide a series of afterschool history drama lessons to elementary school-aged children.
Based in assistant professor of theatre Victoria Lantz's academic community engagement "Children's Creative Drama" course, the program provides free educational activities through the Huntsville Public Library.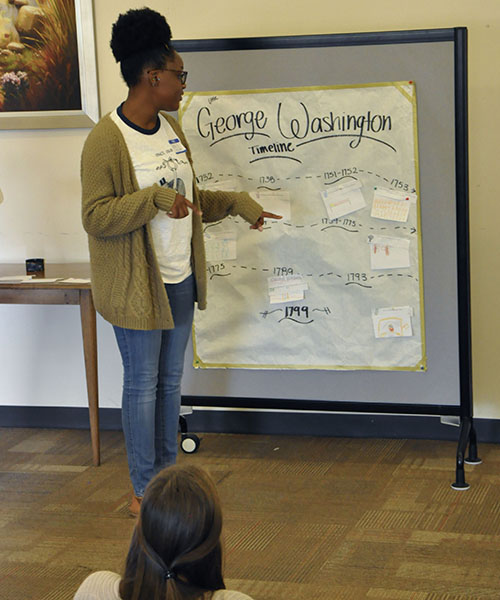 Theatre professor Victoria Lantz's students use dramatic practices to explore American history and past presidents in a program at the Huntsville Public Library. Activities will continue Oct. 20 and Oct. 27. —Photos by Angela Theis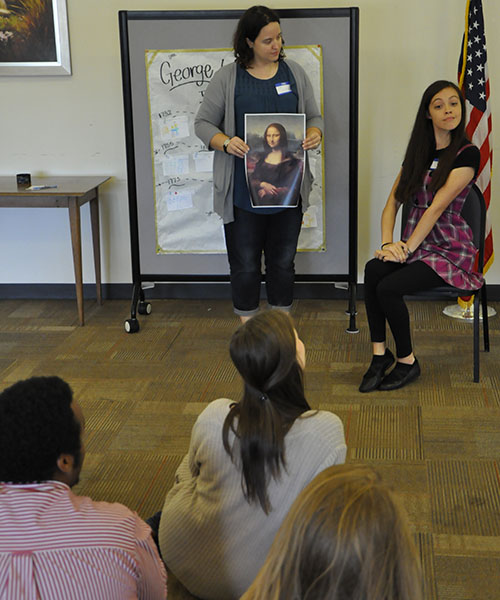 The interactive experience aims to be a fun way for elementary students to develop a deeper understanding of the specific events that took place in American history and the roles three famous presidents played in our nation's past.
"I was looking for partners for my academic community engaged class, and the public library was very excited to have us come in with five different story dramas," Lantz said. "The library is open to the public, and after school, so it has great benefits to sharing these activities with lots of children."
The series opened on Oct. 6 with SHSU theatre students and Lantz teaching the children about President George Washington and the American Revolution; the second installation of the series, on Oct. 20, will focus on President Abraham Lincoln and Thanksgiving, while the final topic of the season, on Oct. 27, will be President Theodore Roosevelt and Mt. Rushmore.
Lessons will be held from 3:30-4:30 p.m. in the library; activities are free and open to all elementary-aged students in the Huntsville community.
During the first presentation on Washington and the American Revolution, the SHSU students used a variety of dramatic practices—based in the use of movement, pantomime, sounds, and some characters—to express key elements linked to the historical narrative, as well as a variety of activities to engage the elementary students—including role playing, photo recreation, storytelling, and trivia.
"I think we're really looking forward to the kids coming back," said Sarah Lindsay, a student in the "Children's Creative Drama" course. "If they come to all three (classes), they'll get a good, rounded knowledge of the history and (will) be more comfortable in the environment."
By embracing the SHSU motto, "The measure of a Life is its Service," the theatre and education students hope their hands-on work with children in the Huntsville community will teach the children in fun and exciting new ways of learning.
The theme of kinesthetic learning is the driving force behind the program. Both SHSU and elementary students will be involved in the learning process–a hands-on approach to education.
These lessons could prove extremely beneficial to the young students in the long run.
According to the American Alliance for Theatre and Education, students involved in dramatic arts have higher standardized test scores, experience improved reading comprehension, maintain better attendance records, and stay generally more engaged in school than their non-arts counterparts.
"I believe dramatic arts are important for children of all ages as it offers the chance to express yourself and learn apart from a traditional classroom setting," said Madeline Myers, a student in the class. "This is important, especially in this day and age, as it normalizes that no two people, let alone children, learn the same way."
Myers also believes that not only can the children learn from the college students, but that the college students can pick up a few things from the kids themselves.
"We all definitely hope that these lessons inspire kids to not exclude learning from fun," Myers said. "In addition to this, since most of the people in this course are future teachers, it is a goal for us all to learn from our students as much as they learn from us. We hope to grow not only as educators, but as people, in showing the patience, spontaneity and encouragement we've learned this semester to children of all ages."
- END -
This page maintained by SHSU's Communications Office:
University Communications Manager: Emily Binetti
Located in the 115 Administration Building
Telephone: 936.294.1836; Fax: 936.294.1834
Please send comments, corrections, news tips to Today@Sam.edu.
---