SET BEST Announcement
2014 Bladerunneris comomg!
MathWorks, Simulink Video:
Short Presentation Video (~6mins.) on what new with Simulink this year.
OR
The Results are In! - Monday, October 28, 2013
Twenty teams competed in Saturday's events and here are the results:
1st Place BEST - A&M Consolidated HS
2nd Place BEST - Porter HS
3rd Place BEST - Cornerstone Christian Academy
4th Place BEST - Stephen F. Austin Middle School
1st Place Robot - Cornerstone Christian Academy
2nd Place Robot - Porter HS
3rd Place Robot - Stephen F. Austin Middle School
4th Place Robot - Madisonville HS
Founders Award for Creative Design - Summer Creek HS
Most Robust Design - A&M Consolidated MS
Honorable Mention in Notebook - College Station HS
Honorable Mention in Presentation - A&M Consolidated MS
Honorable Mention in Exhibit/Interview - College Station HS
BEST Heart - Porter HS
Also recognized:
BEST Rookie Award - Davila Science Club
Most Improved Team - Stephen F. Austin MS
SET BEST (Southeast Texas Boosting Engineering Science and Technology) is a yearly engineering contest designed to inspire students towards further studies in the fields of science and engineering. Starting from a box of raw materials, teams of high school students are given six weeks to design, build,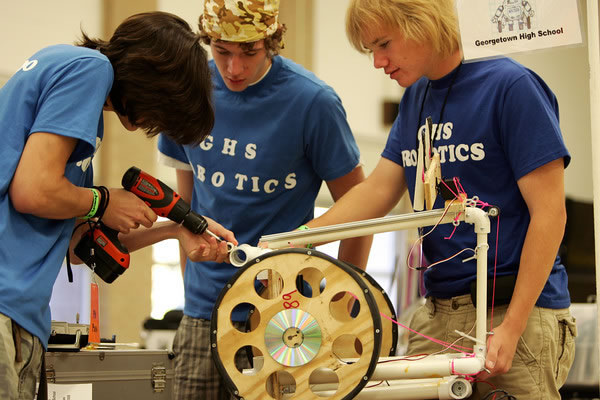 and then demonstrate a remote-controlled machine that will perform a given task. Engineers and scientists from local industry team with the students as technology coaches, whose job is to mentor and guide the students in understanding the engineering process, teaming, brainstorming and other business principles. On contest day, teams pit their machines in a head-to-head sports-like competition to see which is BEST. Winners advance to the Texas BEST regional competition held each year at University of Texas at Dallas.
The intent of the BEST program is to get kids motivated for studies and careers in engineering, science and technology and introduce them to some of the engineering/scientific methods through mentoring by industry professionals and actual hands-on experience. Real-world engineering is demonstrated while providing an exciting and fun sports-like competition.
SET BEST is one of over 20 hubs throughout Texas and the US. We cover the South East Texas District and surrounding counties in Texas. Visit B.E.S.T. Robotics Inc. for a breakdown of all of the BEST hubs.