Campus Notice
Viral Meningitis Case Confirmed
Sam Houston State University has confirmed that a student has contracted viral meningitis. The student is receiving treatment and is in good condition.
Viral meningitis is generally less severe than bacterial meningitis and resolves without specific treatment, according to the Centers for Disease Control and Prevention.
Please refer to the CDC for additional information about the illness, including signs and symptoms. Should you suspect you are experiencing viral meningitis symptoms, please report to your nearest Emergency Room.
Events
"Dido and Aeneas," performed by the SHSU Opera in the spring, has been recognized with the university division prize.




The Bearkat Battalion shared the lessons they're learning with the women's basketball team through a series of activities Sept. 20.




"Ready Player One" fan fiction, poetry, freshman essay, research, and art contest submissions are due Oct. 20 through Nov. 4.



Dances@8

A student-choreographed fundraising concert, tonight and on Friday, at 8 p.m. in the GPAC Dance Theater.

Beto Chair Lecture

Featuring Marvin Krohn, on Friday, at 9:30 a.m. in the CJ Center's Hazel B. Kerper Courtroom.

Foreign Film Festival

Featuring "Ballad of a Soldier," on Tuesday, at 3:45 p.m. and at 7 p.m. in Evans Complex Room 105.
See Calendar >>
Spotlight
SHSU's Student Health Center provides health services and education to currently enrolled students, offering referral services, nursing care, allergy injections, TB testing, physical exams, and Sexually Transmitted Infection screening. The Student Health Center also has an in-house laboratory and pharmacy at a significant savings.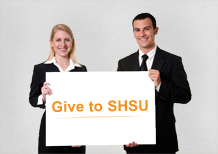 SHSU Main Campus
1806 Avenue J
Huntsville, TX 77340
(936) 294-1111
(866) BEARKAT
The Woodlands Center
3380 College Park Drive
The Woodlands, TX 77384
(936) 202-5000
University Park
20515 SH 249
Houston, TX 77070
(281) 290-2900