Campus Notice
Having Problems Getting Football Tickets?
Due to a national outage with SHSU's online athletic ticketing service, all ticket purchases must made by calling the SHSU athletic ticket office at 936.294.1729 or by stopping by the office in the Ron Mafrige Field House. Ticket office hours are 8 a.m. to 5 p.m. Thursday and Friday. Follow Bearkat Athletics on Twitter or on Facebook for updates on the outage.
Events
Student Activities will give students 24 opportunities in a single "week" to get a complete college experience.




Longtime CJ professor Phillip Lyons has taken over as dean for Vincent Webb, who has returned to the classroom.




Congrats to SHSU President Dana Gibson, who, as of Aug. 4, is now Dana G. Hoyt.



Spotlight
The Psychological Services Center strives to provide evaluations and treatment for under-served members of the community, including children and adults, couples and families. Services are offered on a sliding fee scale, allowing community members to receive services they may not have access to otherwise. The center also offers services to local rehabilitative and correctional organizations and provides services to lawyers and courts. As part of the clinical training gained by doctoral-level students who perform the services, students complete forensic evaluations for the courts, psychological evaluations and diagnostic interviews.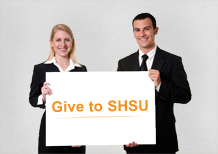 SHSU Main Campus
1806 Avenue J
Huntsville, TX 77340
(936) 294-1111
(866) BEARKAT
The Woodlands Center
3380 College Park Drive
The Woodlands, TX 77384
(936) 202-5000
University Park
20515 SH 249
Houston, TX 77070
(281) 290-2900