Events
Ryan Randa surveyed 3,500 students to discover that cyberbullying is a significant factor for fear of victimization at school.




Families have until Aug. 25 to sign up for this year's spirit-filled Bearkat Family Weekend.




Laura Pregeant brought home a $1,000 prize, and Amber Eggleton, Elise Weber and Justin Zachary were also selected to compete.



Spotlight
SHSU's Student Health Center provides health services and education to currently enrolled students, offering referral services, nursing care, allergy injections, TB testing, physical exams, and Sexually Transmitted Infection screening. The Student Health Center also has an in-house laboratory and pharmacy at a significant savings.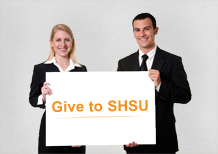 SHSU Main Campus
1806 Avenue J
Huntsville, TX 77340
(936) 294-1111
(866) BEARKAT
The Woodlands Center
3380 College Park Drive
The Woodlands, TX 77384
(936) 202-5000
University Park
20515 SH 249
Houston, TX 77070
(281) 290-2900