Events
Avid photographers can get exposure for their work and compete for prizes through the annual amateur photography contest.




Longtime CJ professor Phillip Lyons has taken over as dean for Vincent Webb, who has returned to the classroom.




President Dana G. Hoyt recognized more than 40 SHSU employees for service exceeding 20 years on Sept. 4.



Spotlight
The Bearkat OneCard Services Office provides more than just identification card services through the multifunctional Bearkat OneCard to SHSU students, faculty and staff. The office also promotes, enhances, and encourages the use of the OneCard in the Huntsville/Walker County area. The OneCard supports and benefits the university and local communities, while striving to educate cardholders about services and options available via the OneCard. In addition, Bearkat OneCard Services assists students as a resource for general university information.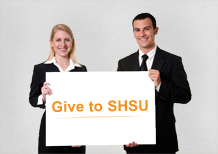 SHSU Main Campus
1806 Avenue J
Huntsville, TX 77340
(936) 294-1111
(866) BEARKAT
The Woodlands Center
3380 College Park Drive
The Woodlands, TX 77384
(936) 202-5000
University Park
20515 SH 249
Houston, TX 77070
(281) 290-2900