Events
This fall, the College of Criminal Justice will open a house for freshman CJ majors to live and study together.




Andy Noble and Dionne Sparkman Noble "journey into deep space" for their Houston premier, Aug. 29-30 and Sept. 4-6.




Avid photographers can get exposure for their work and compete for prizes through the annual amateur photography contest.



Spotlight
The SHSU Counseling Center staff understands that life doesn't stop just because you're enrolled in college. It can be hard to care about going to class if you're struggling with depression or anxiety. Or maybe you're having a hard time studying because of a relationship problem. You might even be questioning why you came to college in the first place. Whatever problems you're facing, the Counseling Center can help students get back on track. The center offers individual and couples counseling, as well as a range of therapy groups. Services are free to currently enrolled students, and sessions are completely confidential.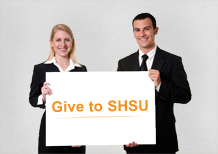 SHSU Main Campus
1806 Avenue J
Huntsville, TX 77340
(936) 294-1111
(866) BEARKAT
The Woodlands Center
3380 College Park Drive
The Woodlands, TX 77384
(936) 202-5000
University Park
20515 SH 249
Houston, TX 77070
(281) 290-2900