Events
Edward Morin's animated work "In Between Here and There" was selected as one of 19 participants from 263 international entries.




Richard Watts has been honored with the Texas State University System's "Regents' Professor Award."




HA/tch provides services and support that aids entrepreneurs in getting their businesses or ideas off the ground.



Spotlight
Dedicated to the life and times of Gen. Sam Houston, the museum hosts educational programs, demonstrations, tours and exhibitions throughout the year. The 18-acre site serves as the location of historical buildings and structures, artifacts, material culture objects, books, manuscripts, and archives. The museum has two major emphases: Sam and Margaret Houston, members of the Houston family and descendants; and the history, culture, and development of Texas and the Southwest, especially the period 1832-1865.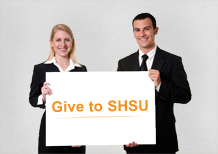 SHSU Main Campus
1806 Avenue J
Huntsville, TX 77340
(936) 294-1111
(866) BEARKAT
The Woodlands Center
3380 College Park Drive
The Woodlands, TX 77384
(936) 202-5000
University Park
20515 SH 249
Houston, TX 77070
(281) 290-2900