Events
College of Criminal Justice ambassadors represent the college at various events and mentor new and prospective students.




Eight freshman and two transfer orientation sessions are scheduled this summer, beginning June 12.




SHSU has fewer than 35 tickets remaining for this year's Leadercast 2014, scheduled for May 9.



Spotlight
The Psychological Services Center strives to provide evaluations and treatment for under-served members of the community, including children and adults, couples and families. Services are offered on a sliding fee scale, allowing community members to receive services they may not have access to otherwise. The center also offers services to local rehabilitative and correctional organizations and provides services to lawyers and courts. As part of the clinical training gained by doctoral-level students who perform the services, students complete forensic evaluations for the courts, psychological evaluations and diagnostic interviews.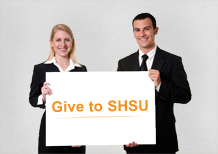 SHSU Main Campus
1806 Avenue J
Huntsville, TX 77340
(936) 294-1111
(866) BEARKAT
The Woodlands Center
3380 College Park Drive
The Woodlands, TX 77384
(936) 202-5000
University Park
20515 SH 249
Houston, TX 77070
(281) 290-2900