Events
This fall, the College of Criminal Justice will open a house for freshman CJ majors to live and study together.




New Bearkat OneCards were mailed June 16, and the current, orange OneCards will be deactivated in the fall.




Alan Tinsley will share his thoughts and experiences during 9:30 a.m. and 2:30 p.m. commencement ceremonies on Aug. 2.



Welcome, Freshmen!

Get information about New Student Orientation, for students entering SHSU in the fall, through the link above.

Summer Repertory Theatre

Featuring five shows in 10 days, July 21-30, at 8 p.m., in the University Theatre Center's Showcase Theatre.

Cosmic Castaways

A planetarium series program, on July 23 at 3:30 p.m. in Farrington Building Room 102.
See Calendar >>
Spotlight
The Sam Houston Association of School Psychology supports the professional development of graduate students working towards licensure as specialists in school psychology. Members regularly attend and present research at both state and nation-wide conferences.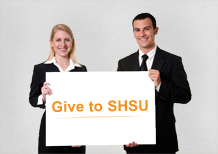 SHSU Main Campus
1806 Avenue J
Huntsville, TX 77340
(936) 294-1111
(866) BEARKAT
The Woodlands Center
3380 College Park Drive
The Woodlands, TX 77384
(936) 202-5000
University Park
20515 SH 249
Houston, TX 77070
(281) 290-2900