Student Set to Travel Internationally for Conference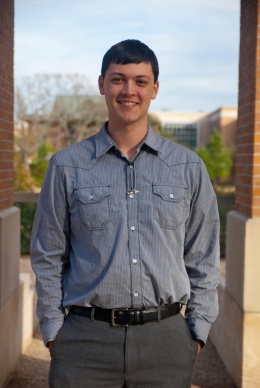 Photo: Jessica Gomez | The Houstonian
The College of Fine Arts and Mass Communication's Global Center for Journalism and Democracy is taking off, and a student will join the Center for the ride of his college career.
Stephen Green, a senior studying multiplatform journalism and political science, will join a team of Sam Houston State University representatives traveling to Beirut to attend "Media Coverage of International Justice," a conference dedicated to bringing journalists from the Middle East and North Africa together to discuss how to better cover international courts and tribunals.
SHSU will host the event with the Samir Kassir Foundation, a non-profit organization named after an well known Lebanese journalist who dedicated his career to maintaining the awareness of a free and open press in Lebanon and the Arab world.
Green quickly made his mark on the journalism field in Huntsville. In addition to serving as the editor-in-chief of SHSU's student newspaper, The Houstonian, Green worked as both a weather anchor and lead anchor at KSHU Channel 7 News and co-host of a one-hour radio show on 90.5 The Kat.
Green says the ability to grow into a working professional is what drew him to SHSU.
"What brought me to Sam Houston State University was the news program. I saw that it was very hands on and practical, and I would be able to graduate with an extensive portfolio," he says. "Everything has been a lot of fun, and the experiences have helped me grow as a student."
To say Green is grounded in his young career in mass communications is an understatement. But what literally keeps his feet glued to the pavement is that he's scared to death of flying. He has only traveled on an airplane once domestically out of his hometown, Orange, Texas, but says this will not stop him from seizing what he views as a rare professional opportunity.
"I don't like planes. I'm more scared of the plane ride to Beirut than I am of anything that could happen to me on the ground," he says. "You don't expect to go overseas with someone like Kelli Arena, to be taken under her wing, but I was more honored than surprised. College is a place where you can do anything; you just hope to keep your eyes open to as many opportunities as you can."
In addition to Arena, SHSU faculty Robin Johnson, Ph.D., of the Mass Communication Department and Mitchel Roth, Ph.D., of the College of Criminal Justice will attend the conference.
Green says the idea of traveling to Beirut and learning from Professor Arena, a mentor in the College of Fine Arts & Mass Communication with 25 years of experience as a news manager and on-air correspondent for CNN, will be a unique educational experience.
Arena served as CNN's justice correspondent, covering everything from terrorism and national security to the Supreme Court and federal law enforcement. She says the conference and all of the extenuating factors that correlate with the event are one of the primary reasons the Center was founded.
"I'm passionate about what I do, and I believe a free and vibrant press is imperative to society. It is assumed these courts will play a major role in developing news coverage, and it's important that journalists have a solid understanding of how they work and how to cover them," she says. "We are also part of a university, so in all the things that we do, we constantly look for ways to involve our students and give them access to opportunities they would not have access to otherwise; Stephen will not only be learning and participating in the event, but he will also cover the event for the university."
Green will be actively posting updates on Twitter @SHGlobalCenter as well as the Center's Facebook page.
Visit the Center's homepage for updates from the conference and other news from the Global Center for Journalism and Democracy.
---
Global Center for Journalism and Democracy
Dan Rather Communications Building, Room 201, Huntsville, TX 77340
Phone: (936) 294-4399