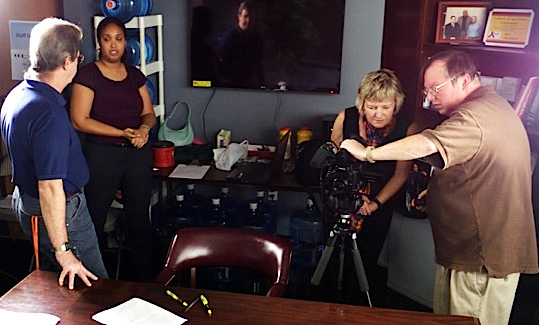 Massingill and others test video equipment in preparation for a session
HIV doctors, advocates and patients offer facts and personal stories in video series
A series of informational videos about HIV/AIDS will soon be available for use by clinics and other groups that seek to educate, prevent or treat the disease. The videos are being produced by faculty and students in the Mass Communication Department through a research grant from SHSU.
The project, Knowledge is Power! HIV/AIDS Perceptions and Choices, features Houston HIV doctors providing medical facts on prevention and treatment, while HIV advocates explore issues such as stigma and financial assistance. Also, patients talk candidly about coping with being HIV-positive and offer advice to those at risk for infection.
Dr. Ruth Massingill interviews a guest
Houston, with more than 27,000 people already living with HIV, and a new infection occurring every seven hours, has HIV facilities that often serve as national and international models, but the need for more education is widely recognized.
The Houston HIV community has enthusiastically supported the video project, said Dr. Ruth Massingill, SHSU associate professor and producer for the videos. "I'm grateful to the many people who have been willing to share their professional expertise and their personal experiences," Massingill said.

The project also requires specialized communication skills. Mel Strait and Jerry Westergaard, documentary makers and SHSU faculty members, are videographers and editors for the series. Several broadcast students are also assisting with the project.

For more information, contact Dr. Massingill at rmassingill@shsu.edu.
Participants in the Knowledge is Power videos include HIV literacy advocate Rita Wiltz (left)
and Scot More, who is living with HIV, shown with Dr. Ruth Massingill during a videotaping session
---
Global Center for Journalism and Democracy
Dan Rather Communications Building, Room 201, Huntsville, TX 77340
Phone: (936) 294-4399