SHSU students, faculty, and staff are now able to receive their dental care in the new Student Health Center. With the implementation of dental services through Onsite Dental Solutions, students can receive x-rays, cleanings, teeth extractions, crowns, orthodontics, teeth whitening, etc.
Most major insurance carriers are accepted. For more information or to make an appointment, call 936-207-8472.
---
FREQUENTLY ASKED QUESTIONS
Why is SHSU offering dental services on campus?
As with the other onsite amenities, we are constantly seeking ways to provide services that allow our students & employees to move fast, stay focused and have impact. We provide services that make life more convenient, efficient, and simple. Onsite dental care will not only save you time, but will provide an exceptional concierge dental experience. The right care at the right time, right on campus.
Where is the Dental Office located?
The Dental Office is located on the first floor of the SHSU health center.
What services are going to be offered?
The following services will be offered:
Preventive exams and cleanings
Restorative services (e.g. crowns, fillings)
Endodontic services (e.g. root canals)
Periodontal Services (e.g. gum treatment)
Invisalign orthodontics
Cosmetic Dentistry (e.g. advanced teeth whitening, veneers, cosmetic crown & bridge as needed)
How do I make an appointment?
The easiest and fastest way to make an appointment is to call the dental office directly at: 936-207-8472. After creating your account, you can log in to schedule an appointment. Select the time, day, and provider you wish to see. You will get a confirmation email regarding your appointment. In addition to scheduling an appointment, you will also be able to message the Dental Office team, request prescription refills, and review test results.
Who can use the SHSU Dental Office?
Any student; faculty or staff member working at the SHSU campus can use the onsite dental suite. Students & employees enrolled in SHSU's PPO dental plan may use their plan at the onsite office as an "in-network" provider. The onsite dental office ACCEPTS other insurance plans even if you do not carry the SHSU sponsored dental plan. Just call and they will guide you through the process just like any other dental office. Additionally, discounted rates are ava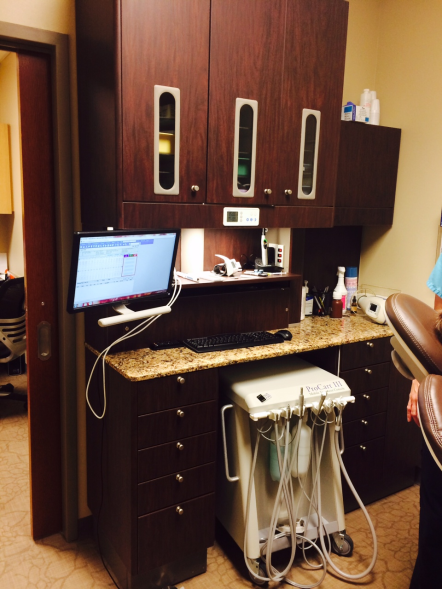 ilable to individuals without insurance or opting to pay fee-for-service.
So Humana PPO & other PPO insurance members can use the Dental Office?
Yes. Humana PPO & other PPO insurance members can use the onsite dental office. The majority of dental needs can be accomplished at the onsite dental office. However, if you need a specialist services you may have to go back to the PPO network for a referral.
Can my spouse & dependents come to the SHSU Dental Office?
Due to the nature of our secure campus, only individuals who are part of the SHSU community are eligible to be seen at the onsite dental office. However, all spouses & dependents may receive the same discounts and services at the home office of Onsite Dental Solutions. To learn more or schedule an appointment for a spouse or dependent just ask the SHSU dental team. The home office is also a state-of-the art dental suite dedicated to high quality dental care.
I don't have dental insurance. Can I use the Onsite Dental Office?
Yes. Individuals without insurance can use the onsite dental office. The team at the onsite dental office will be able to provide significant discounts to individuals without dental insurance. Without insurance the discounted payment may be required upfront for services.
How will the Dental Office know which coverage I have?
The Dental Office is able to verify your eligibility as part of the sign up / sign in process.
Will SHSU have access to my personal dental health records?
All personal medical and dental information shared or disclosed at the onsite dental offices is confidential and fully HIPPA compliant. Your employer will never have access to your personal health information. Your consent for treatment is between you and your provider who belongs to an independent dental group.
Can I call to make an appointment?
Yes. You can walk-in or call for an appointment. To reach the Dental Office call 936-207-8472.
What are the hours of operation?
The walk-in and phone inquiries can be honored during regular business hours Monday through Thursday and Friday by appointment. Appointments will be made on a first-available basis. Our dentists are also on call after hours should you need them for any urgent dental situations.
What happens after hours when the Dental Office is not open and I need care?
Our care team and dentists are on call for the Dental Office 24/7. Even if you leave a message the voicemail is checked regularly. Our providers are available to help triage your phone call and direct care as appropriate based on your need.
Do I have to use the Onsite Dental Office?
The Onsite Dental Office is a benefit that is offered to students & employees and as such, no one is required to use the Dental Office. Even if you have a dentist, you may still want to be connected to the Dental Office for all the other services & benefits including ancillary services.
What happens when I need to see a specialist outside of the Onsite Dental Office?
If you need care outside the Onsite Dental Office, your dental team will help coordinate. So, if you need to see a specialist, we can help recommend one as well as assist with scheduling an appointment. We also work with you to ensure that all the information from outside care is collected back into your dental record so it is complete.
How do referrals to other providers work?
The onsite dental team has developed a highly specialized network of specialists that provide a differentiated service level for you. This network is developed with your help so when you are referred to an outside provider please be sure and tells us about your experience so we can ensure we have the very best providers in our network.