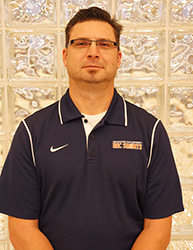 Ed Chatal
Associate Director of Facilities
rca_elc@shsu.edu
936-294-4889 or 936-294-1740
Allyson Martel
Hi, my name is Allyson Martel; I am from Nome, TX and I am a Criminal Justice major here at Sam Houston State University. After I graduate, I hope to attend Law School to become a District Attorney. I enjoy singing, dancing, being outdoors, and spending time with my family and friends.
Hannah Risinger
Hi, my name is Hannah Risinger, and am a junior at Sam! I'm an education major, who wants to teach kindergarten. I'm from the small town of Angleton, Texas and graduated in 2011. I love dancing and hunting with my dad!
Justice Crisp
Hello! My name is Justice Crisp and I am from Cypress, Texas. I am an office assistance at the Johnson Coliseum. I am currently a Graphics Design major here at Sam Houston and considering a minor in Marketing. I look forward to taking my skills to Austin, Texas after graduation. I am very family oriented, I love sports and to be outside!
Nicole Kinsey
Hello, my name is Nicole Kinsey. I am from Cypress, Texas and graduated high school in 2011. This is my second year at Sam Houston, I am a transfer from Lonestar College. I am involved in Alpha Omicron Pi Sorority. My major is Human Resources Management and I plan on graduating in 2015!

Recreational Sports | Jump in. Play hard.