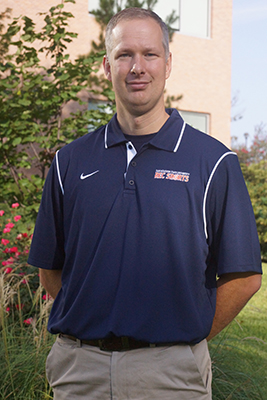 Associate Director of Programs
jrider@shsu.edu
(936) 294-3656
Hometown:

Mansfield, CT / Alkmaar, The Netherlands

Education/Experience:

Bachelors – Psychology, University of Connecticut

Masters – Educational Leadership, Lynchburg College

Graduate Assistant for Intramural Sports, Lynchburg College

Assistant Director of Recreation and Wellness, Nova Southeastern University

Program Director for Recreational Services and Facilities, Winthrop University

Director of Recreation, Assumption College

Personal:

Jaron and his wife Natasha have two young kids: Isabel and Ethan. Ethan's full name is Ethan Zachary Rider giving him the initials EZ Rider. Jaron and his wife have lived up and down the east coast from Virginia, to Florida, to South Carolina to Massachusetts before moving to Texas where they both have family in the Houston area. He is fluent in Dutch and enjoys golf, basketball, fishing, scuba diving and spending time with his kids.

Recreational Sports | Jump in. Play hard.