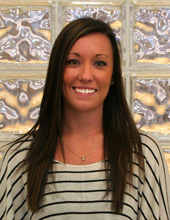 Fitness Director
Hometown:

North Webster, Indiana

Education/Experience:

Bachelor's Degree in Kinesiology, Indiana University
Pursuing Master's Degree in Health at Sam Houston State University

Personal:

Kayla began her SHSU journey as the Fitness Graduate Assistant within the Department of Recreational Sports and has since obtained the position as the Assistant Director of Fitness. Born and raised in the Midwest, she earned her Bachelor's degree in Kinesiology from Indiana University in Bloomington, Indiana (Go Hoosiers!) and is currently pursuing her Master's in Health at SHSU. Kayla is a Certified Personal Trainer through the American Council on Exercise (ACE) and holds current group fitness certifications through the Aerobics and Fitness Association of America (AFAA) and YogaFit organizations. She lives by the simple saying, "Sweat, Smile, Sleep" and believes that anyone can learn to live a healthy, active lifestyle by doing these three simple things at least once a day.

Jump In.Play Hard.Get FIT!