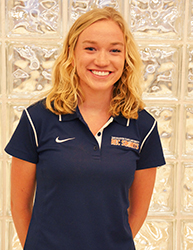 Marketing Graduate Assistant
Hometown:

Owensboro, Kentucky

Education/Experience:

B.S. in Communication with a minor in Computer Information Systems from Western Kentucky University
Pursuing a M.A. in Health at Sam Houston State University

Personal:

Megan is a native of Kentucky, and was a 4-year athlete at WKU as a member of the Indoor and Outdoor Track & Field and Cross Country Teams, where she also earned academic honors. While at WKU she worked in recreation as a wellness intern, fitness center and front desk attendant. In her free time she enjoys running, swimming, biking. She also enjoys listening to live music and traveling to new places whenever she can.

Recreational Sports | Jump in. Play hard.